Burleson Cosmetic Dentist Transforms Smiles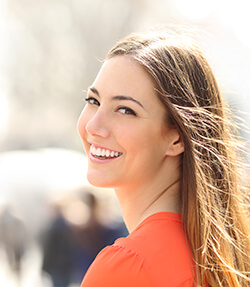 Having a healthy smile is incredibly important, but Dr. Oza and the rest of our team at Marvel Dental also understand how valuable a beautiful smile can be. In fact, research suggests that people with whiter, straighter teeth are perceived by their peers as more confident, more successful, and younger. If you're struggling with flaws like discolored enamel, chips, cracks, or gaps that keep you from enjoying your best look, turn to us for personalized attention and support. We provide several quality cosmetic services that create the dazzling improvements you've been dreaming of! Potential patients from Crowley and nearby areas are welcome to contact us today and schedule their first consultation.
Porcelain Veneers
Veneers are often the perfect cosmetic solution for patients who don't have the time or the budget to undergo several different procedures to achieve the smile of their dreams. Instead, these wafer-thin restorations are designed to fit over the front of your teeth hiding imperfections behind a new, movie star smile that shines bright. Veneers don't even stain in the same way as natural enamel, which lets you enjoy their beautifully natural color that much longer. Plus, they can last up to twenty years or longer with good oral hygiene at home and regular check-ups.
All-Ceramic Restorations
Older patients are surely familiar with the traditional silver and gold materials that were commonplace in crowns, bridges, inlays, and onlays not too long ago. While effective enough in rebuilding teeth, their noticeably unnatural appearance has always been a big detractor. Thankfully, we are happy to offer an excellent alternative here at Marvel Dental – all-ceramic restorations. These quality materials are the perfect blend of functionality and lifelike beauty, even reflecting light just like your natural enamel. They also don't contain any metal, which means they're great for patients with allergies or sensitivities that have kept them from fully enjoying restorative improvements in the past.
Invisalign Clear Braces
Thankfully, noticeable metal braces aren't the only way to achieve a straighter smile any longer. Image-conscious patients can turn to Invisalign instead! This treatment option utilizes clear, removable aligners instead of the traditional brackets and wires; patients will be provided with a personalized set and instructed to wear each one for a certain amount of time. In just 8-18 months, you could be enjoying the more flattering look you've always wanted for your teeth.
Tooth-Colored Fillings
Tooth-colored fillings are leaps and bounds beyond their amalgam counterparts, giving patients the lifelike appearance, added comfort, and long-lasting quality they deserve.