Repairing Smiles with Restorative Dentistry in Burleson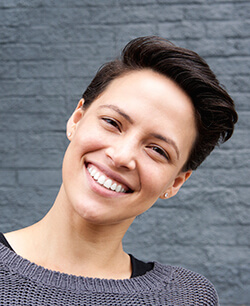 If you're struggling with teeth that are damaged, in pain, or even missing, please turn to Marvel Dental today for the quality attention and support you need most. Our team isn't interested in judging you – in fact, we're thrilled that you've taken the first step towards better oral health by reaching out to us. Our restorative services are designed to rebuild what's been lost and revitalize areas in need, all while giving you back a smile that both feels and looks great. Contact our Burleson, TX office today if you have any questions we can help you with, or if you're ready to schedule your first appointment with Dr. Oza.
Dental Crowns & Bridges
With customized dental crowns and bridges, patients can have damaged or decayed areas rebuilt for a better, bright smile. Better yet, all-ceramic materials allow your new restorations to blend in with your natural teeth for a natural appearance you're sure to love.
Dentures & Partials
Today, there are many people with extensive tooth loss who still prefer the convenience and affordability of dentures. Our team can provide sleek, customized designs for your smile that fit comfortably and look natural. Full dentures are designed to replace an entire arch of teeth, while partials are able to restore certain teeth while allowing healthy ones to stay in place. Both of these options from our doctors are removable for added ease and more peaceful rest.
Are you looking for a more lifelike solution to tooth loss? Patients from Alvarado and surrounding areas can also find implant-retained dentures at our practice. These advanced prosthetics are designed to attach to implant placed within the jawbone creating a strong, confident fit patients can rely on.
Root Canal Therapy
If a filling or crown can't save a badly injured tooth from extraction, what can? Root canal therapy could be the saving grace you need. While this treatment option may have a bad reputation, it's actually very successful and quite comfortable with the help of the latest technology and anesthesia options.
Wisdom Tooth Extractions
Wisdom teeth (also known as third molars) are the last adult teeth to make an appearance in your smile, and sadly, the human mouth often doesn't have enough room to accommodate their arrival. This can result in impaction, overcrowding, and higher risks of damaging infection over time. That's why it's often in your best interest to have these teeth removed, and our team at Marvel Dental can help. We'll take care to make your extraction procedure as comfortable as possible, and nitrous oxide (laughing gas) is available to take the edge off any feelings of fear or anxiety you're experiencing.
CEREC Crowns
Getting a crown usually means needing to make multiple appointments since the restoration needs to be designed at a dental lab. However, thanks to the CEREC system, Dr. Oza can have your unique crown designed and created in just one day. Not only will you save time, but the process will be much more comfortable overall thanks to the use of digital scans as opposed to the dental putty traditionally used to take impressions.