Dental Insurance – Burleson, TX
Making Dentistry Services Affordable for You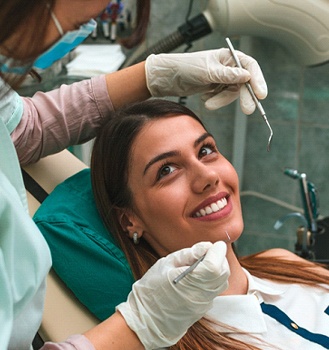 Although some individuals opt out of dental insurance, it is imperative that you have something to protect you should a serious problem arise. What happens when a toothache becomes so severe that only a root canal can save your tooth from extraction and provide much-needed relief? It's likely you'll be looking at your individual insurance plan to determine what is covered and how much you'll be expected to pay. At Marvel Dental, we accept a wide range of PPO dental insurance plans and offer CareCredit to help patients pay for their dental services. If you are having trouble understanding your policy or don't know how to get the most out of your benefits, talk to a team member in our office who will be happy to assist.
How Dental Insurance Works
Dental insurance is just like any other type of insurance, in that it has a monthly premium you agree to pay to have coverage and a deductible you must meet each year in order to gain full access to those insurance benefits.
Although each plan is different, the expected coverage should look something like this:
100% preventive care covered
70-80% minor restorative care covered
50% major restorative care covered
It's important to keep in mind that you also have a yearly maximum. This is the allotted amount your dental insurance company has agreed to pay in one year for services. Anything over that amount is your responsibility, so when learning about various dental procedures you need, take the time to talk to our team about how you can prevent paying over your yearly maximum. It may be possible to spread out your treatments over calendar years.
What is the Different Between Dental and Medical Insurance?
If you fall off a bike and break your leg, you'll need to use medical insurance to fix the problem. Medical insurance is designed to address and treat problems after they occur, as well as any emergency situations.
Dental insurance is a bit different. It is designed to prevent problems before they occur, which is why dental insurance companies offer to cover most or all preventive services, such as dental cleanings and checkups, and X-rays. This helps to alleviate and expose problems in their early stages, or better yet, keep them from occurring in the first place. Oral health issues don't just go away without treatment, but unfortunately, many people opt to forgo help because of the cost associated with dental work. If you have dental insurance, you can feel more confident and comfortable knowing you, your dental insurance company, and our team will work together to keep your out-of-pocket costs low while receiving the highest quality of dental care possible.
In-Network vs. Out of Network
While at Marvel Dental, we are focused on improving your oral health, we also want to make it possible for you to keep more money in your wallet should problems arise. Whether you choose in-network or out-of-network, we can help you better understand how your policy works and what you can expect when it comes to maximizing your benefits and making decisions about your dental care.
In-Network Coverage
Marvel Dental is an in-network provider for the following dental insurance companies:
MetLife
Blue Cross Blue Shield
United Health Care
While we negotiate our services and fees with these companies, we can ensure you will get the best possible rate each time you seek treatment from our qualified professionals. Apart from the list provided above, we also accept most other major PPO insurance plans and work alongside other insurance companies. Just because it may not be listed doesn't mean we can't help. Simply call our office and ask to see how we can help you get the most out of your insurance.
Out of Network
Just because you choose an out-of-network provider doesn't mean you can't still receive some excellent benefits. Our team of professionals will happily offer you the same approach when it comes to filing claims and paperwork and working with the dental insurance company on your behalf. It is our goal that no matter who walks through our doors inquiring about service, we help you get the most out of your individual benefits.