Repair Damaged Teeth with Dental Crowns & Bridges in Burleson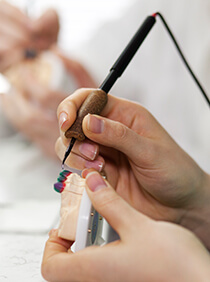 You don't have to settle for a smile that's hurting here in Burleson, TX. Dr. Oza offers quality solutions for repairing teeth that are lackluster or lost – crowns and bridges. These restorations are designed to be lifelike, mimicking not only the appearance of your smile, but its function and durability as well. Once patients from Alvarado and surrounding areas are finished with their treatment, they'll be amazed by what's staring back at them from the mirror! Contact Marvel Dental today if you have any questions we can answer about crown and bridge treatment, or if you'd like to schedule an appointment.
Dental Crowns
Crowns are designed to essentially "cap" over the entire surface area of a single tooth mimicking the original look and feel while protecting the natural structure underneath. There are several reasons why our team may recommend this solution including severe decay, an injury, weakened function, or cosmetic issues. They're also population restorations when a patient has had an implant placed or a tooth treated with root canal therapy.
If we've agreed that a new dental crown is the right choice for your smile, patients will typically attend two appointments – one where our team prepares the tooth and takes impressions, and another where the doctor places the finished product and ensures a great fit. In the interim, patients have a temporary crown placed so that there's only minimal disruption in their day to day life.
Dental Bridges
Bridges are designed to replace one or more teeth in a row within your smile, with dental crowns placed on nearby healthy teeth as "anchors" to hold it in place. This creates a strong, steady fit that won't move around in the mouth.