Burleson Dental Implants Restore Missing Teeth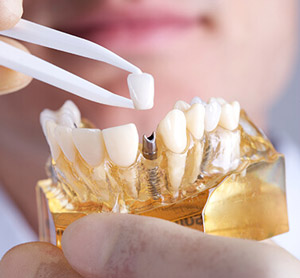 Even the loss of one tooth can have far-reaching consequences that affect your oral health, your self-confidence, and your overall quality of life. At Marvel Dental, Dr. Jay Oza offers multiple replacement solutions, but none that are as effective or as lifelike as dental implants. Implants are designed to rebuild your entire tooth from the roots up providing patients with a final result that's long-lasting, functional, and beautiful to look at. Contact us today to schedule a consultation with our team! Patients from Joshua and nearby areas are always welcome.
Dental Implant Process
During your consultation, Dr. Oza will determine whether or not you're a viable candidate for dental implants. Typically, patients need to have an adequate amount of jawbone density and good oral health for the procedure to have the highest chances of succeeding. While the lack of either of these qualities isn't a deal breaker, additional procedures could be needed before any actual implant treatment begins.
Your new implants will be placed into the jawbone. You'll be recommended to a trusted, nearby specialist for this portion of the procedure.
In most cases, patients will need a significant period of healing time following their implant placement. This gives your natural bone plenty of time to integrate with the new implant(s) and create a solid foundation for your eventual replacement teeth. An additional procedure for the attachment of an abutment/extension may be needed during this time.
Finally, patients return to Marvel Dental so our team can design and place brand-new restorations that complement natural smiles to a tee. Dental crowns are used in cases of single implants, while implant-retained dentures restore several teeth at once.
Implant-Retained Dentures
While crowns are a great solution for implant restoration, using several of them throughout the mouth can become a costly and needlessly complicated process. Instead, why not simplify your new smile with an implant-retained denture? These prosthetics closely resemble a traditional denture, but they attach to implants instead of resting on the gum line or requiring other teeth to be modified making them superior in both function and health. Patients will enjoy having chewing strength returned, and they won't have to worry about slippage. Both fixed and removable options are available depending on the state of your mouth and personal preference.
Dental Implant FAQ's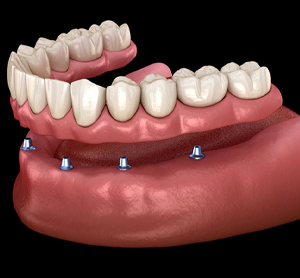 If you're like most patients considering dental implants, then you likely have several questions pertaining to the procedure. Based on our years of experience, we've listed four of the most frequently asked questions about the dental implant process along with the answers. If you have any other questions or concerns, give us a buzz at Marvel Dental to schedule a visit with Dr. Oza.
Will I Have a Customized Dental Implant Plan?
When you visit Marvel Dental, Dr. Oza will start the dental implant process by conducting a careful oral examination. Then, if there are any issues that need to be addressed, like gum disease treatment or a tooth extraction, we'll make sure it's taken care of. Next, we'll develop a custom plan for you based on the number and condition of any remaining teeth.
We'll then put the data to work by developing a custom restoration plan and then forward it to a trusted specialist who will place your dental implants in Burleson. After you recover from the initial insertion, we'll add a final restoration so you can get back to leading a normal and fulfilling life.
What if All My Teeth are Missing?
Thankfully, there are dental implant options to replace any number of missing teeth. If you need a full mouth reconstruction, you don't have to endure having several dental implants placed, which can be costly and more time consuming. Instead, we'll create a reconstruction plan that requires only four to six dental implants per arch, that will allow a full set of prosthetic teeth to be securely attached. Unlike a traditional denture, which relies on the suction created inside your mouth and dental adhesive to be held in place, your implant-retained denture will be fastened to the underlying support with snaps or a bar. That means no shifting and up to 75% of the original chewing capacity restored.
How Much Do Dental Implants Cost?
As previously mentioned, the dental implant process is completely customized. Thus, the only way to receive an accurate price quote for the procedure is to visit our Burleson office for a thorough examination. Then, based on your needs, we'll create a complete treatment plan that takes into account any restorative care needed before the implant is placed, the number of teeth you have missing and the type of restoration you'll need. Based on this information, we'll determine the cost of replacing your teeth with dental implants. This will allow you to plan accordingly on investing into the future of your oral health.
Will My Smile Look Natural?
By being inserted into the underlying jawbone, a dental implant mimics the function of the natural tooth root. Then, to solidify its position, the new fixture fuses with the underlying jawbone through a process called osseointegration. This forms a sound foundation for a final restoration to be attached via a titanium abutment that acts as an anchor.
Your dentist in Burleson will work with you to find the right shape, size and shade of teeth to create the most symmetrical appearance possible. Then, after we've filled in all the gaps, you can look forward to enjoying greater confidence and a functional set of teeth!