Burleson Dental Implants Restore Missing Teeth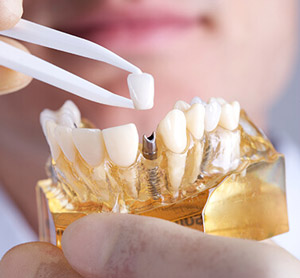 Even the loss of one tooth can have far-reaching consequences that affect your oral health, your self-confidence, and your overall quality of life. At Marvel Dental, Dr. Jay Oza offers multiple replacement solutions, but none that are as effective or as lifelike as dental implants. Implants are designed to rebuild your entire tooth from the roots up providing patients with a final result that's long-lasting, functional, and beautiful to look at. Contact us today to schedule a consultation with our team! Patients from Joshua and nearby areas are always welcome.
Dental Implant Process
During your consultation, Dr. Oza will determine whether or not you're a viable candidate for dental implants. Typically, patients need to have an adequate amount of jawbone density and good oral health for the procedure to have the highest chances of succeeding. While the lack of either of these qualities isn't a deal breaker, additional procedures could be needed before any actual implant treatment begins.
Your new implants will be placed into the jawbone. You'll be recommended to a trusted, nearby specialist for this portion of the procedure.
In most cases, patients will need a significant period of healing time following their implant placement. This gives your natural bone plenty of time to integrate with the new implant(s) and create a solid foundation for your eventual replacement teeth. An additional procedure for the attachment of an abutment/extension may be needed during this time.
Finally, patients return to Marvel Dental so our team can design and place brand-new restorations that complement natural smiles to a tee. Dental crowns are used in cases of single implants, while implant-retained dentures restore several teeth at once.
Implant-Retained Dentures
While crowns are a great solution for implant restoration, using several of them throughout the mouth can become a costly and needlessly complicated process. Instead, why not simplify your new smile with an implant-retained denture? These prosthetics closely resemble a traditional denture, but they attach to implants instead of resting on the gum line or requiring other teeth to be modified making them superior in both function and health. Patients will enjoy having chewing strength returned, and they won't have to worry about slippage. Both fixed and removable options are available depending on the state of your mouth and personal preference.