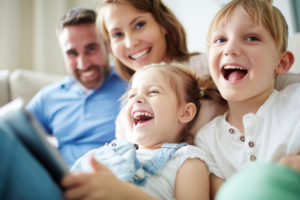 Whether it's in a microwavable box or can, "meals on the go" are risky! As parents, we are constantly on the move—dropping kids off at school with their processed lunches then speeding to work and running through a drive-thru for breakfast. It seems like as adults, we are trying to squeeze 25 hours into a 24-hour day. This causes our general health to suffer as well as our oral health. Overall, as a generation, Millennials are considered to be the most obsessed with health, but seeking a quick fix doesn't always get us the results you need. That is the challenge for the health community: helping patients realize that the answer to their health problems begins with consistency and prevention! Your dentist in Burleson cares about your well-being and wants to keep your family healthy with regular, long-term dental services. Marvel dental is here to help you and your loved one's smiles last a lifetime.
We Put Your Well-being First
Our friendly, compassionate staff isn't the least bit interested in advertising expensive, unnecessary procedures. We give all our patients—whether it's the youngest member of your family or the wisest—one on one attention. This way, our dentists are able to build personal relationships with each of our patients and develop custom dental treatment plans to help everyone meet their oral health goals. We make sure that you are comfortable, free of anxiety, and safe with our office amenities. Every time a patient walks in our office, they feel right at home!
We Offer the Services You Need
Our goal has always remained the same: to provide comprehensive, cosmetic, and family dentistry that maintains healthy, happy smiles for a lifetime. Whether a member of your family is searching for a stunning cosmetic treatment or permanent dental restorations, our team is ready to provide the services you need and deserve. Some of the services we offer are:
Preventive dentistry—We want to help protect you and your family from ever needing extensive dental care. We office routine dental checkups, professional cleanings, and information on how to care for your teeth at home. This goes for the kids in your family too!
Cosmetic dentistry—We have a variety of options to improve your smile. Our office understands the importance of having a bright, straight smile. A beautiful smile can change your life for the better, boosting your self-confidence for years to come.
Periodontal dentistry—We're aware that gum disease is one of the most common dental health issues. If left untreated, it can develop into periodontitis. Luckily, we provide personalized therapy options to restore healthy teeth and gums.
Restorative dentistry—We understand that dental damage can be extremely frustrating to deal with, but it doesn't have to be permanent. Our doctors have the training and experience to create seamless tooth restorations that blend easily within your natural smile.
The knowledge we have among our experienced staff alone makes us very valuable to our community. Your family dentist in Burleson also has the state-of-the-art technology to make Marvel Dental the ideal office for any of your family members to visit. We are invested in developing long-lasting relationships and delivering quality health care. Contact Marvel Dental today to schedule a visit!