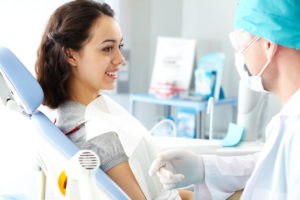 When you're looking for a dentist in Burleson, we know that you have a lot of options to choose from. Our dental office just hopes that you'll choose a dentist and dental team that is dedicated to building personalized, long-term relationships with their patients. Our dental office respects each patient and their dental goals no matter their dental habits or budgets. Dr. Jay Oza and Dr. Shiv Kohli show they care about you and your family by offering the highest quality dental care with comprehensive services and state-of-the-art technology. We invite you to explore what Marvel Dental has to offer you and your loved ones before choosing your next dentist.
Our Dentists Care About You!
We have two well-educated, compassionate dentists that work each day to make our patient's smiles healthy and bright. Our practice provides you and your family the best general dentistry services you need to prevent serious dental—even serious general—health problems down the road. That's how you know your dentist has your best interest in mind. Both Dr. Oza and Dr. Kohli consider how every treatment will affect your dental health and overall health in the long run.
We also make sure that our dental experts are just that—masters of their craft. Each of our dentists has extensive education and practice in the field, continuing their education and acting as active members in the dental community. Dr. Kohli has even given back to American patients by serving the underprivileged population at the Central Arizona Shelter Services Dental Clinic. Review our Meet the Doctors page to get to know your new dentist personally.
Our Patients Give Us 5 Stars!
Online reviews help patients weed through many options available online—this even applies when you're looking for a new dentist in Burleson. You're more than welcome to read our Google reviews from patients that have actually visited our office. We have 120 patients that were ecstatic about the personalized dental services they received and can't wait to tell you about it! Before your first visit with us, take a few moments to review them. You'll feel more confident than ever about our helpful dental team and what we can do to help you reach your optimal dental health.
Anyone Can Receive the Dental Care They Need!
The entire team at Marvel Dental is committed to helping your family enjoy the healthy smiles you deserve. Whether your grandfather is looking to restore teeth from old age or you're your son's first tooth has broken through his little gums, we offer the services your family needs. Our dental office offers preventive, cosmetic, periodontal, and restorative dentistry services. Marvel Dental even has specials!
20% off all crowns, bridges, and dentures!
$59 new patient special including a complete exam, x-ray, and professional screening!
$600 OFF Invisalign clear braces!
$25 emergency exam including necessary x-rays!
We're dedicated to helping patients get the care they need within their budget, schedule, and lifestyle. These specials among others allow patients to improve their dental health all while saving money.
We offer patient services to locals in the Burleson, Briaroaks, and nearby communities. Feel free to review our new patient forms and give us a call to schedule an appointment. Our office team looks forward to creating another long-lasting patient relationship.