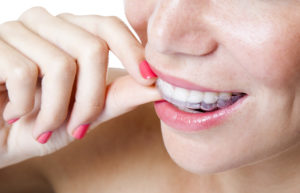 Who wants a crooked smile? No one does, right? However, when you think about orthodontic treatment, do unattractive metal braces come to mind? Do you worry about the time and lifestyle commitment of traditional braces? You may have a wonderful alternative. Removable, invisible and comfortable, Invisalign aligners in Burleson straighten smiles which have all kinds of orthodontic problems–from gaps and overbite to crookedness and tooth rotation. Are these inventive appliances right for you? Why not ask your dentist in Burleson, Dr. Oza or Dr Kohli, at Marvel Dental Care. He'll give you clear answers you need.
So what is Invisalign?
Invisalign aligners are clear acrylic orthodontic appliances. They provide a practically invisible way to improve smiles which have gaps, crowding, underbite, overbite, and other mild to moderate alignment problems. Customized in a special Invisalign lab according to your dentist's treatment plan and your oral impressions and photos, Invisalign aligners resemble professional teeth whitening trays. They're made to fit tightly over both top and bottom teeth.
Crafted from smooth, light acrylic, these appliances are so discreet, no one notices you're wearing them. Go ahead. Ask your dentist if that's really true, or check out the Invisalign website.
Does treatment take long?
If a time commitment of two to two and a half years or more sounds too daunting, don't worry. Invisalign takes less time than traditional ceramic or metal braces. Typically, Invisalign treatment is finished in an average of 15 months. Patients wear their 18 to 30 aligner pairs for 20 to 22 hours a day, removing them when they eat, brush their teeth and floss.
Who is a good candidate for Invisalign ?
Older teens through senior adults who have healthy teeth and gums may qualify for Invisalign. Children whose jaws have not stopped growing and whose teeth have not fully erupted do not qualify for Invisalign. Your dentist does a comprehensive oral exam and takes digital X-rays, three-dimensional imaging and photos to develop an Invisalign care plan. People are amazed at the number and kinds of smile problems Invisalign can solve, including the dental shift that frequently occurs after metal wires and brackets are removed.
How will day to day life be impacted by Invisalign?
Invisalign wearers remove their appliances for meals, brushing and flossing and for special events such as weddings, job interview, and proms. Unlike life with metal wires and brackets, diet is unrestricted. Patients can enjoy the healthy foods they always have. However, good brushing and flossing is a must. As an added bonus, the soft tissues of the mouth experience little to no irritation as with conventional braces.
How often does Dr. Oza or Dr. Kohli see his Invisalign patients?
Invisalign patients visit Marvel Dental Care every six weeks or so for progress checks and to receive the next aligner pairs in their treatment plan. These appointments are quick and easy because Invisalign aligners need no complex or painful adjustments.
Will my teeth stay In place?
The team at Marvel Dental Care may recommend you stabilize your smile with a retainer.
Would You Like to Know More about Invisalign?
People everywhere enjoy treatment with Invisalign. Could you be one of them? Find out during a personal Invisalign consultation with one of our dentists. He'll be happy to answer all your questions! Contact Marvel Dental Care for an appointment today.