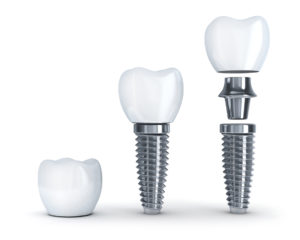 Ill-fitting dentures or gaps created by missing compromise your smile function and aesthetics. Dental implants in Burleson can fill those gaps or even support full or partial dentures, strengthening your jaw bone and allowing you to eat, smile and speak naturally and confidently. Dr. Oza or Dr. Kohli at Marvel Dental Care recommend them to qualified patients as the highest quality tooth replacement option available today.
What is a Dental Implant?
Basically, a dental implant is a prosthetic tooth. Replacing a missing tooth from its root to its crown, an implant consists of three parts:
A screw-like titanium implant surgically placed into the jaw
A metal alloy post extending above the gumline
A realistic ceramic crown
The accomplished team at Marvel Dental Care evaluates patients for these amazing tooth replacements. You may receive one or more devices depending on whether you are replacing one or more teeth or even supporting partial or full dentures.
While dental implants require an investment of time and money, Dr. Oza and Dr. Kohli believe they are well-worth the cost and effort. Dental implants have many oral health advantages, and they last for decades. In fact, once a dental implant is placed, it likely will stay in place for the rest of your life.
The Dental Implant Procedure
Your dentist determines your suitability for a dental implant by carefully examining your teeth and gums and taking X-rays and other sophisticated imaging. You must be in good overall and oral health and have adequate bone density to anchor the implant. If your jaw bone is too thin, augmentation procedures which use donor tissue may build-up the implant site. If you are qualified for a dental implant, your dentist will refer you to a trusted oral surgeon for the actual placement of the device.
To begin the procedure, the oral surgeon numbs the area to receive the implant and incises the gums. He or she drills a small hole in the bone. Then, the doctor screws in the implant and closes the gums with sutures.
Over the next several weeks, the jaw bone fuses to the titanium implant. This fusion happens via osseointegration, an amazing bodily process in which the bone attaches itself to the implant. During a subsequent visit to Marvel Dental Care, your dentist bonds the metal alloy post and custom-made ceramic crown in place, and the dental implant is complete.
Life with a Dental Implant
Patients say that their dental implants feel and function just like real teeth. Unlike conventional bridgework or dentures, dental implants strengthen the jaw bone, preserving youthful facial appearance and creating a firm foundation for eating a healthy diet.
Regarding oral hygiene, implant patients brush and floss implants just as they do their natural teeth–twice a day with a fluoride toothpaste and flossing daily to remove plaque and tartar. Also, patients come to Marvel Dental Care for semi-annual exams and cleanings.
The Success of Dental Implants
Of course, natural teeth remain the best options for a healthy and durable smile. However, when teeth are lost to decay, gum disease or injury, implants are superior replacements. While they cost more initially than partial dentures or traditional fixed bridgework, implants rarely need replacing. Compare that to conventional prosthetics which feature a lifespan of only ten years.
The Academy of Osseointegration indicates that more than 90 percent of implant procedures succeed, and more than 90 percent of the devices remain healthy and functioning for decades. Factors such as poor oral hygiene and smoking can compromise implants and cause their failure.
Are You Interested in Dental Implants?
Learn more about dental implants by contacting Marvel Dental Care and arranging a consultation. Your dentist will help you decide if dental implants are the right for you. And remember, Marvel Dental Care features flexible financing options and accepts all PPO insurances. So affording a dental implant is made easier.