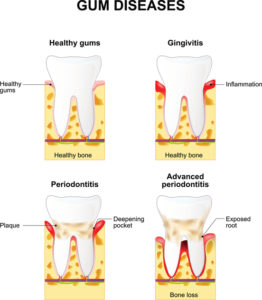 As you brush and floss your teeth, do you notice that your gums are bleeding? If so, your first instinct may be to shrug it off. You might think it is normal or that you have brushed too hard. However, this is an indication that you have gum disease and you need to take immediate action with your dentist in Burleson. When an infection develops in the gum tissue, it must be treated promptly to prevent irreversible damage to your oral health. With 50% of adults suffering from a form of the condition, you need to be proactive about protecting your gums. At Marvel Dental, we offer the prevention and treatment you need.

What are the Signs of Gum Disease?
Periodontal disease, more commonly known as gum disease, is an infection that results from bacteria found in plaque and tartar accumulations. During the early stage, gingivitis, the gums become red, inflamed, and often bleed. At this point, it is easily treatable with a deep cleaning and proper oral hygiene. With quick intervention, there will be no permanent damage.
Unfortunately, many people dismiss bleeding and swollen gums as not a big concern, allowing the infection to progress to the next stage, periodontitis. Now, deep pockets have formed in the gum tissue, trapping more bacteria. You may start to notice pus pockets forming and your teeth are becoming sensitive. Your gum line will start to recede to expose the tooth roots. To prevent the damages from progressing, you need an aggressive treatment and significant changes to your oral hygiene.
If a proactive approach is not taken, it will progress to advanced periodontist. As this point, the damage is irreversible as the bone and supporting structures are destroyed. The teeth will begin to shift, become loose, and eventually fall out.
As soon as you notice the first signs of the infection, whether it be bleeding gums or chronic bad breath, you need to seek treatment right away. Not only does it damage your oral health, but it can lead to serious overall health conditions as well, like cardiovascular disease and respiratory infections.
How Can I Prevent Gum Disease?
Although gum disease is quite common, it is easily preventable with proper home oral hygiene habits and regular visits to your dentist. In addition to brushing your teeth, floss daily to remove plaque and tartar buildups. Visit your dentist every six months for a cleaning and checkup. If you notice any changes to your oral health, contact Marvel Dental right away.
Where Can I Get Treatment for Gum Disease?
Marvel Dental provides gum disease treatment in Burleson. We will evaluate the severity of the infection to create a customized treatment plan. We will recommend a deep cleaning and additional hygiene tips. If the condition has progressed beyond the first stage, you will require a more aggressive approach.
To protect your overall well-being, do not ignore bleeding gums. Contact our office today to schedule an appointment to restore your oral health.