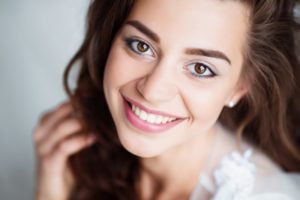 As your meeting wraps up with your new client, you breathe a sigh of relief. Meeting new people is always stressful because you feel self-conscious about the appearance of your teeth. You worry that people might think you're rude when you don't smile fully. It always creates anxiety for you. Did you know that cosmetic dentistry can help to repair and enhance your smile? Your Burleson dentist is able to transform smiles with porcelain veneers, and here is how they may benefit you.
What is a Porcelain Veneer?
A dental veneer is comprised of a thin layer of porcelain designed to fit over your tooth. It's customized to blend seamlessly with your tooth, and it can actually change the shade, size, or shape of your tooth. Veneers are ideal for restoring a number of dental imperfections such as:
Staining or discoloration
Gaps and spacing between teeth
Slight misalignment
Size discrepancies
Excessive wear, chips, and fractures
Misshapen teeth
While a veneer can repair one or two teeth, they are truly best utilized to enhance an entire smile. This is because they are durable, and add longevity to your tooth. They are easy to care for, as you'll brush and floss normally. They are also stain resistant, which means they don't discolor at the rate of your natural tooth and you won't have to whiten them.
Getting Porcelain Veneers
If you'd like to learn more about how porcelain veneers in Burleson can enhance your smile, the first place to start is a consultation with Dr. Oza and Dr. Kohli. They'll work together with you to design your new smile, taking into consideration your goals, facial structure, and skin tone. Our doctors have extensive experience in designing and delivering marvelous smiles, so you can rest assured that you're in good hands when you choose Marvel Dental for your treatment.
Getting veneers placed takes two appointments scheduled two weeks apart. At your first appointment your dentist will prepare your teeth for your new restorations. He'll also give you a temporary set to wear while your permanent veneers are being crafted at the dental laboratory. When they are completed, you'll return to our office to have your permanent veneers placed and adjusted for proper fit. You'll be able to share your new smile with the world in no time!
Contact Marvel Dental
If you're ready to learn about what's possible for your smile, we encourage you to contact your dentist in Burleson today to schedule your consultation.