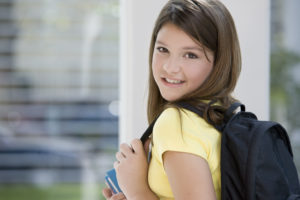 Are you ready for back to school? Have you purchased all the supplies? How about new clothes and shoes? Have you scheduled your child's routine dental cleaning and checkup? This may be the last thing you're thinking about during back to school, but visiting your Burleson dentist for a checkup is just as important as updating your child's immunizations. Here's why.
Don't Take Extra Time Off From School
Scheduling your child's regular cleaning and examination before school starts ensures that you won't have to miss any time away from learning, and also allows you to get it taken care of before your child's schedule becomes more hectic with extracurricular activities.
If they have any tooth decay or cavities to be filled, you can schedule these appointments now so you won't miss school for treatment. Being proactive about any necessary treatment will also ensure that they don't experience any pain or discomfort during school.
Protect Their Oral Health
Your children's dentist in Burleson may also recommend some additional services to protect your child's oral health throughout the school year such as:
Fluoride Treatments: Fluoride helps to protect teeth that are developing, and can also assist in remineralizing teeth that have been damaged by decay. It can be applied right after your child's cleaning, which requires no additional time at the dentist.
Dental Sealants: Sealants are a protective coating placed over the chewing surfaces of your child's teeth. This keeps the acids and bacteria that cause cavities at bay. Sealants are a non-invasive treatment that can be done during one quick appointment.
Mouth Guards: Will your child be participating in sports this year? Your dentist in Burleson can recommend the right guard to best protect them from the injuries that can occur during sports.
Get the school year started off right! Take care of all of your child's dental needs before things get underway.
About the Author
Marvel Dental is comprised of a team of dedicated professionals who love to take care of children! If your child has already started school, you will find that we offer convenient evening appointments so they won't miss any moments of learning.
If you'd like to contact Marvel Dental about your child's oral health, you can call us at 817-374-4804. You can also reach us through our website.