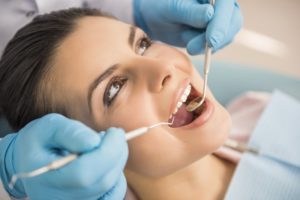 With the end of the year and the holidays upon us, the last thing you are probably thinking about is your next dental appointment. However, the truth is, there's not a better time than now to be making your appointments for cleanings, checkups, and any outstanding treatment you may have because you don't want to lose out on any benefit dollars for 2017. Your dentist in Burleson discusses how dental insurance works and how you can make the most of your unused dollars before time runs out!
The Basics of Dental Insurance
Most dental insurance plans run on a calendar year, which means they start in January and end in December. Your plan has a yearly maximum amount they will cover for treatment in the range $1000 to $2000, and most plans have a deductible to be paid before they cover treatment in the range of $50 to $150.
If you don't use your benefit dollars for 2017, unfortunately, they won't roll over into 2018's benefit dollars, instead they will just be lost. You will also have to pay your deductible again starting in January, so if you have any treatment you need now; it's a good idea to schedule it before the end of the year in order to maximize your benefits.
What Does Dental Insurance Cover?
Typically dental plans will cover most, if not all of your preventive care. This includes your cleaning and examinations with your dentist every six months. These visits help you avoid complex dental procedures since your dentist can detect many concerns such as tooth decay and gum disease in their earliest stages when they're easier and less costly to treat.
Dental plans will pay a percentage of treatment procedures, and this varies with each plan. This helps defray the cost of major procedures so you pay less out-of-pocket.
Do You Have Outstanding Treatment?
Have you had both of your cleaning and examinations this year? Do you have any treatment needs such as a dental filling or crown? Now is the time to check with your dentist and schedule any treatment you need before your 2017 benefits run out.
If you are unsure of your treatment needs or what your dental plan covers, your dentist's insurance or treatment coordinator can help you navigate and understand your benefits so you can be sure to maximize your 2017 dollars.
About Marvel Dental
Dr. Jay Oza and Dr. Dipak Chudasama complete your highly skilled team at Marvel Dental. Patients will find a state-of-the-art facility and dentists who truly care and are invested in their patient's oral health when they choose Marvel Dental for their care. We know you'll appreciate the differences you notice right away at Marvel Dental.
If you would like to contact our office, we can be reached through our website or by calling 817-933-3883.