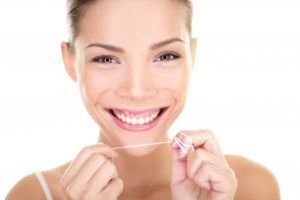 Every time you go to the dentist, you probably hear some friendly reminders about why you should be flossing. You also probably feel guilty every time you don't floss. However, recent reports have put flossing in the hot seat; they say that maybe flossing isn't as effective as dental professionals always claim. What is the truth about this part of your oral hygiene routine? Is flossing really necessary for your oral health? Your dentist in Burelson is here to clear up some misconceptions.
Why Some Feel that Flossing Isn't Necessary
Last year, the Associated Press (AP) decided to take a look at flossing. They gathered 25 studies that had been done over the past decade that compared results when just a toothbrush was used versus when both a toothbrush and floss were used. The results of their research revealed that the evidence for flossing is "weak," "unreliable," and "low-quality."
The story exploded across the media, and it may have even moved some individuals who had been diligent flossers to abandon this part of their routine. However, we need to take a look at the science behind flossing to determine if it's really a useful habit.
Flossing Is Still Important!
It doesn't take a lot of research or common sense to see that the AP's report was biased. It caused a sensation in the news and earned a lot of money for the AP. Their report damaged the reputation of one of the cornerstones of a solid oral hygiene routine. Why will flossing always be important?
Despite a few studies that say flossing isn't effective, there are hundreds of studies that say the opposite. Flossing is important because it reaches places in the mouth that a toothbrush can't get to; it reduce the amount of plaque, bacteria, and flood particles between teeth. Thereby, it helps to prevent tooth decay, gum disease, and other painful oral health problems.
Need Proof?
Researchers at the New York College of Dentistry conducted a study involving twins. More than a thousand pairs of twins were involved in the study; they lived in disadvantaged areas of Brazil where there is limited access to dental care.
The study took an especially close look at 51 pairs of twins over a two-week period and examined their responses to either flossing or not flossing. The twins who did not floss during the two weeks had an 'overabundance' of decay-causing bacteria in their mouths compared to the twins who did floss.
Flossing is good for you! It's a low-cost, effective way to fight tooth decay, so why hesitate to do it? Your family dentist in Burleson will be proud of you for your efforts.
About the Dentist
Dr. Jay Oza is your friendly dentist in Burleson. He is passionate about promoting great oral health for his patients, which is why he strongly recommends flossing. If you have other questions about how to care for your smile, you can contact our office at 817-933-3883.