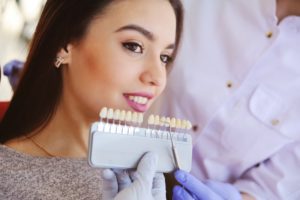 A dream of yours has always been to be able to flash your pearly whites freely, without fear of ridicule or shame. You desperately desire to have perfect teeth, and you're not the only person who highly values a great smile. Studies show that 73% of Americans say that they are more likely to trust a person with a pleasing grin than someone with a great job, awesome car or snazzy wardrobe. Your dentist says that a viable way to accommodate your desires is with porcelain veneers of Burleson. Read on to learn how this method can take your confidence to unimaginable levels.
What are Porcelain Veneers?
Veneers are thin porcelain shells that are custom designed to fit over your teeth. They mask slight gaps, misalignments, crowding or stains. The process of correcting your smile with this method happens in three steps:
Initial Visit – At the first visit, your dentist will determine whether you are a good candidate for porcelain veneers. He will take X-rays, photographs and impressions of your teeth, and these steps will all help in delivering the perfect application that fits the shape of your mouth, lips, face and skin tone. The final step at this appointment will be to shave down your enamel slightly and then place temporary veneers.
Fabrication – There will be a two-week span of time between your first and second appointments, during which time your custom shells will be fabricated.
Second Visit – At your second appointment, your dentist will affix your permanent veneers to your teeth.
And just like that, you'll have the smile of your dreams!
How to Care for Your Veneers
If cared for properly, you'll get a lot of mileage out of your porcelain veneers, with them lasting between 10 and 15 years. To make sure that they have such longevity, be sure to do the following:
Practice Excellent Oral Hygiene – Your oral hygiene is still just as important as always, so be sure to brush and floss at least twice a day. You don't want to get a beautiful smile, only to lose it to tooth decay.
Abstain from Improper Biting – The last thing you want to do is chip one of your veneers, so to prevent that from happening, try not to eat hard items like ice or use your teeth as a tool to pry things open. These types of activities can spell disaster.
Avoid Foods that Stain – Your veneers are resistant to staining, but your other teeth are still very vulnerable, so try to avoid eating foods and drinking liquids that cause staining. Otherwise, there will be a glaring difference between your veneers and your normal teeth.
If you have slight blemishes to your smile that have been bugging you for years, this is your chance to make a change – a change that will deliver more self-esteem and bring more positivity to your life. Contact your local dentist today to learn how to get the process started.
About the Author
Dr. Jay Oza received his undergraduate degree from the University of North Texas and then went on to earn his dental degree from New York University. A member of the American Dental Association and several other professional organizations, Dr. Oza practices at Marvel Dental and can be reached for more information through his website.