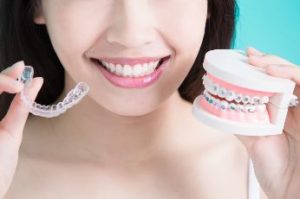 Did you know that the first attempts at straightening teeth date back thousands of years? Even Cleopatra wore a very early type of braces! Clearly, having straight teeth has been something people have been interested in throughout time. However, modern orthodontic practices didn't get started until the mid-1700's.
After that, the only option available was brackets and wires for many years. Then Invisalign was introduced about 20 years ago, which changed the field of orthodontics forever! But how does Invisalign in Burleson work and how does it compare to braces? Read more to find out!
How Does Invisalign Work?
Whereas traditional braces use metal brackets to create movement, Invisalign relies on clear, plastic trays called aligners. These aligners apply gentle pressure to the teeth, moving them into the correct positions over time.
Typically, each set of trays is worn for two weeks before moving on to the next set. The average length of treatment is about 12 months, although this depends on your unique case.
How Are Braces and Invisalign Different?
Appearance – This is the most obvious difference! With the clear aligners, other people won't be able to tell you're in treatment. If you have photographs or a special event like a wedding, the trays can be taken out for a short time.
Cost – Whether you're in braces or Invisalign, the cost will vary quite a bit from person to person. Generally, the cost is in the same ballpark for either option.
Length of Treatment – The total time spent in treatment is usually less for Invisalign. However, the trays must be worn for a minimum of 22 hours each day, so commitment is required to get your results on time!
Hygiene – Since you can take the trays out before brushing and flossing, it's much easier to keep your teeth and gums healthy. Traditional braces can be challenging because it's difficult to access plaque and food debris around the brackets.
Diet – If you wear braces you have to avoid particularly hard or crunchy foods. With Invisalign, your diet won't change because you can remove the trays before eating.
Comfort – The smooth, plastic aligners are much more comfortable to the soft tissues in the mouth than the metal used in braces.
Number of Visits – If you opt for Invisalign, you'll come in about every six weeks so the dentist can check your progress and give you your next few sets of trays. Braces require visits every four weeks.
If you'd like to know how Invisalign would work for your individual needs, scheduling a consultation with a dentist in Burleson is the first step.
We're lucky to have such an effective, modern alternative to braces – why not take advantage of it?
About the Author
Dr. Jay Oza and Dr. Dipak Chudasama have successfully treated countless patients with Invisalign. Combining outstanding clinical skills with a compassionate chairside manner, they provide exceptional results while still keeping their patients comfortable. If you have any questions, they can be reached via their website or at (817) 933-3883.