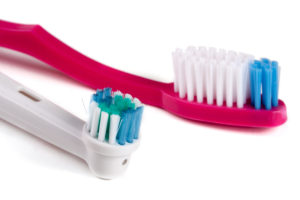 The quest for excellent oral health is never-ending, so you continue to search for ways to make improvements. One of your concerns is how to select the right toothbrush. You wonder, "Should I choose an electric or manual?" or "Are harder bristles better than the softer kind?" Your dentist in Burleson will answer these questions and explain how your oral hygiene works in tandem with preventive dentistry to encourage the best oral health possible.
What's Better – the Electric or Manual Toothbrush?
When deciding whether to get an electric or manual toothbrush, it boils down to which is a better fit for your particular situation.
Here are some factors to keep in mind:
Cost – When it comes to cost, the manual toothbrush will, by far, save you more money. It has a lower price point than the electric alternative and doesn't require the extra purchase of batteries and replacement heads.
Time – The manual toothbrush saves you money, but the electric option is in a class of its own when it comes to conserving time. You won't necessarily have to follow the American Dental Association recommendation of brushing for at least two minutes each session, because the electric toothbrush's bristles rotate 6,000 to 30,000 times per minute.
Control – If you have sensitive gums that are more prone to bleed, then the manual toothbrush is the route you want to take, because it affords you the ability to monitor and alter how much pressure is being applied when you brush.
Easy Use – The electric toothbrush is the better option for easy use. If you have some sort of injury or condition that limits your range of motion, then this will be more convenient. The motorized alternative will allow you to get into hard-to-reach places with less effort.
Are Harder Bristles Better?
Although it may seem that the harder the bristles are on your toothbrush the more thorough your cleaning will be, any slim benefits won't compare to the damage that can be done. Harder bristles can be tough on your gums, making them more susceptible to bleeding and irritation.
You'll fare better by choosing a brush with softer bristles and then putting more effort into improving your brushing techniques.
Your Dentist is a Great Resource!
When you go in for your semi-annual visits for cleanings and checkups, you'll enjoy the benefit of having your oral hygiene efforts fortified by the expert care of your local professional and his staff. In addition, you'll also be able to talk to your family dentist in Burleson about ways that you can improve your oral care. This is also a great time to get some expert help on toothbrush selection relative to your specific needs.
So to get the process started, just reach out to schedule your first appointment today!
About the Author
Dr. Jay Oza earned his dental degree from New York University and has since gone on to provide compassionate and expert care to his patients. A member of several professional organizations, he participates in numerous continuous education courses annually to expand his knowledge. Dr. Oza practices at Marvel Dental and can be reached for more information through his website.