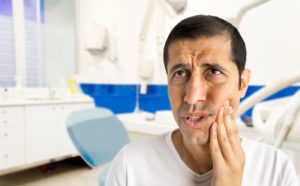 If you haven't visited your dentist in a while, you're missing out on much more than a healthier smile—you're missing out on a healthier body. Your mouth affects your whole well-being! That's why your dentist in Burleson does such a great, thorough job when inspecting the mouth during your exam—even completing super necessary oral cancer screenings.
That's right—we just said cancer. It's critical to visit your local practice and receive an oral cancer screening on a regular basis because the symptoms could be so subtle that you might not notice them yourself. Learn more about the importance oral cancer screenings in this week's blog post.
The Subtle Signs That You Could Miss!
Although you probably look at your teeth and gums every day, the typical symptoms of oral cancer are hard to catch without an untrained eye or modern dental technology. Here are the symptoms that your dentist will keep a look out for during your appointment:
A sore in the mouth that hasn't healed in weeks or months.
Mouth pain that won't quit.
A lump or thickening spot within the cheek
A white or red patch on the gums, tongue, tonsils, or other soft tissues in the mouth
A constant feeling of something stuck in the back of your throat.
A persistent sore throat.
Difficulty when swallowing.
Pain while chewing food.
Difficulty moving the jaw or tongue on command.
Numbness of the tongue or other spots within the mouth.
Swelling in the mouth.
Extremely loose teeth
Changes in the tone of voice.
A lump in the neck or lymph nodes.
Noticeable weight loss.
Chronic bad breath.
Regular Dental Appointments Provide More Than You Think!
As you can probably tell, the signs of oral cancer could show at any time, but they are easy to ignore. That's why your dentist asks questions during your preventive care appointments to notice anything out of the ordinary.
Plus, they have the continued education and resources to meticulously check every area of the mouth of signs of cancer that would otherwise go unnoticed.
In the case that you do notice any of these symptoms when you are at home or outside of your local dental practice, you should call and schedule an appointment to visit your family dentist in Burleson. This way, they can examine your mouth for signs of oral cancer and plan treatment if necessary.
---
About Our Office
Here at Marvel Dental Care, we know to keep a smile in great condition, it takes a team. That's why Dr. Oza and the rest of our office are committed to providing you the professional assistance you need to keep your whole body healthy. Give us a call today to schedule your next visit and oral cancer screening.