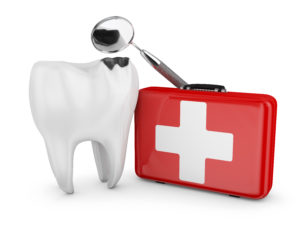 All week, you've anticipated the weekend Rangers' game at Globe Life Park. When the day finally comes around for you to head to Arlington for the big game, you find yourself dealing with serious toothache pain that radiates throughout your jaw, leaving you wondering what caused this and desiring some fast relief. Your emergency dentist in Burleson says this is an example of dental trauma and will discuss some of the other more common types as you read on.
What is a Dental Emergency?
The root of the word emergency is 'emerge,' as in come forth. Therefore, if you have a dental situation where an oral problem suddenly shows itself to be fully inflamed and acute, then you have a dental emergency. In such a scenario, there are two steps that always need to be taken:
Calm Down – This is not just a cliché. The first step after you realize that you have a dental emergency should be to take a deep breath to ground yourself. This is important, so you can think properly and take the critical next steps.
Contact Your Dentist – You should also contact your emergency dentist immediately after the issue has arisen. This will ensure that you get the right instructions on how to proceed and get scheduled to see the dentist.
By taking these two simple steps, you are placing yourself in position to have a favorable recovery.
Common Types of Dental Emergencies
So you can be prepared for any situation, here are some of the more common types of dental emergencies to be aware of:
Toothache – A toothache is usually the result of an ongoing infection that has reached its peak. After contacting your dentist, you can try flossing, applying ice to your face and taking up to 600 mg of ibuprofen for pain relief.
Chipped/Cracked Tooth – A chipped tooth can be caused by a number of things – from eating hard foods to falling. There may be some initial sensitivity, but after a few hours your saliva will begin working to neutralize the discomfort. Still, you should be very careful not to chew in that part of your mouth until you can be seen by your dentist.
Partially Knocked-Out Tooth – If you have a partially knocked-out tooth, you should also be very careful to protect that part of your mouth from any activities that could encourage the tooth to fall out.
Lost Filling – Whether it's an old restoration that needs to be replaced or something happens to knock it out, you can lose a filling and be left with a sensitive tooth whose nerves are exposed to bacteria decay and food particles. You should definitely contact your dentist immediately in these situations.
Lost Crown – The crown also serves as a protector of the rest of the tooth and gums. Thus, if it's lost, you're more vulnerable to serious problems like gum infection and permanent tooth loss.
Dental Emergencies are no fun, but if you find yourself in one, there's no need to panic. With the help of your local dentist, you'll be able to return to normal in a short period of time. So watch out Rangers – your favorite fan is coming back to the diamond!
About the Author
Dr. Jay Oza earned his dental degree from New York University and has since gone on to become a fixture in the Burleson community. In a constant quest to improve, Dr. Oza maintains memberships in several professional organizations and takes continuing education courses throughout the year. This helps to keep him abreast of the changes in the field of dentistry. In emergency situations, you can find Dr. Oza at Marvel Dental and can contact him through his website for more information.