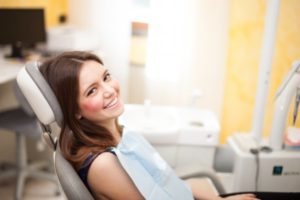 It's unfortunate how many people find reasons not to visit their dentist. According to the Commonwealth Fund, 32 percent of U.S. adults skipped routine dental visits in 2016. Whether it's because they don't have the time to schedule, they're afraid of the possibility of feeling discomfort, or they think they're saving money in the long run, people search for an excuse. However, this couldn't be farther from the truth when compared to the alternative.
Instead of only visiting when an emergency occurs, patients should be visiting their dentist in Burleson every six months. Today, we'll be discussing exactly why it's the better way to get dental care.
How Preventive Visits Help You Avoid Pain
When you visit your dentist for preventive care, you truly are getting the full package. Preventive care is a triple-threat of protection with dental X-rays, a periodic oral exam, and a thorough teeth cleaning. This visit, along with your at-home oral care routine, is typically enough to avoid the most damaging and painful dental conditions out there. Patients can prevent tooth decay, tooth loss, infections, tooth abscesses, and all forms of gum disease this way.
Furthermore, many of the treatments for dental disease are not particularly pleasant to deal with during or after its completion. Your dentist does everything in his power to save natural teeth. That's why he puts preventive care first to catch problems early, making them much easier to treat.
How Routine Visits Help You Save Money
When you think of routine health maintenance, you probably think of annual physicals with your general doctor. Most people wouldn't skip these visits and only see a doctor when an emergency occurs, right? The cost of emergency care, especially if taking an ambulance to the hospital, is much higher than the cost of a routine physical designed to catch problems sooner.
The same applies to dental care. Preventive care is a fraction of the cost compared to expensive restorative treatments, such as dental fillings, root canal therapy, tooth extractions, dental implants, and other dental devices meant to replace teeth like full or partial dentures.
Routine Visits are a Better Way to Schedule
When it comes to convenience, dentists want to make it easier to receive regular care. It's much easier for your dentist to perform routine maintenance, rather than a complex procedure that requires multiple visits to complete. If you want to avoid inconveniences when it comes to health care, the last thing you should do is wait for an emergency.
Emergency dental visits are far more likely to interrupt quality time you would rather spend relaxing or with your family. They're more likely to disrupt your sleep schedule due to late-night tooth pain. Even worse, there's a lower chance that the dentist will be able to accommodate your sudden emergency, at least compared to regularly schedule visits.
Preventive dental checkups are always the best way to manage oral health and avoid emergencies. Schedule an appointment today to make sure your mouth is in good condition!
About the Author
Dr. Jay Oza earned his dental degree from the dental school at NYU. Continuing his education is very important to helping patients receive the best dental care, keep up with modern dental technology and materials, and make visits a comfortable and rewarding experience. To learn more about his practice, contact him through his website.