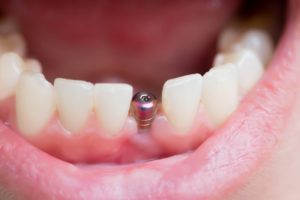 Whether you've lost teeth due to a dental injury or because you've reached a certain age, it doesn't mean you have to settle for an incomplete smile or struggle chewing your favorite foods. With help from a dentist, you can rebuild your smile from the root to the crown with dental implants in Burleson!
If you're wondering if dental implants will work for you or if the benefits are worth it, keep reading.
Who is Eligible for Dental Implants?
The best candidates for dental implants are those with good oral health overall, particularly healthy gums. Tight gums are necessary for holding implants in place and ensuring that they heal around the implant properly. Loose or receding gums will increase the risk of dental implant failure.
People should also have a healthy amount of bone available for placement. However, having insufficient bone doesn't mean you can't receive an implant. Bone grafts, a procedure that utilizes donated bone material, can be performed to regrow existing bone, increasing the overall volume of your jawbone.
Furthermore, it's important to practice daily oral care and avoid all tobacco products, especially during the healing stages after placement. Tobacco negatively affects the mouth's ability to heal, only increasing the risk of implant failure.
Thankfully, more people are eligible for dental implants than ever before.
What is the Process?
If you're interested in receiving implants, the process always starts with a consultation with your dentist. During this meeting, the dentist will determine if you're ready to receive implants right away or if additional procedures are needed. Then, the dentist will refer you to a trained and trusted oral surgeon to have them placed. Once they're placed, you'll need to wait three to six months for the gum tissue to heal and for the implant to integrate with your bone. This will create a solid foundation for your implant to last for many years.
During this healing period, a screw that connects your dental crown and implant, known as an abutment, may be placed. However, it may also be placed around the same time as your new crown. Once the healing period is complete, you'll return to the dentist and have a custom restoration designed and placed, perfectly blending in with your smile.
What are the Benefits?
Dental implants offer many benefits you won't see with other tooth replacement options. They include:
A long-lasting solution to tooth loss (implants can last 25 years to a lifetime)
Bone stimulation and blood flow, which helps maintain jaw strength and your face's shape
The ability to eat all your favorite foods without worry
The most natural-looking smile
If you want the most advanced solution to tooth replacement in dentistry to date, look no further than dental implants. Schedule a consultation to learn more!
About the Author
Dr. Jay Oza earned his dental degree from NYU and offers dental restorations that are as functional as they are lifelike. When you visit him for replacing teeth, you'll walk out the office with a smile you've only dreamed of. To learn more about his practice, contact him through his website.