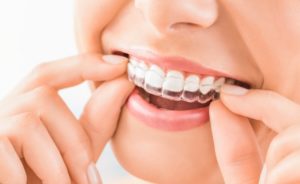 Have you been thinking about straightening your smile? You're not alone. Adults all over the world have crooked teeth and their reasons for avoiding a straightening method vary. For most, the idea of getting noticeable metal braces during the adult years are not only inconvenient but embarrassing as well. Don't worry, you have more options than you think. Invisalign treatment has become one of the most popular ways of aligning smiles because of it's discreetness. Keep reading to see if you'd be a good candidate for Invisalign aligning trays from a dentist in Burleson.
What is Invisalign Treatment?
Invisalign treatment uses a series of clear plastic aligning trays that custom-fit your teeth to gradually straighten them. The trays are typically switched out every two weeks and each aligner have a different shape that shifts your teeth into alignment.
The aligners should be worn around 22 hours a day and the treatment process can take from 8 to 18 months depending on how misaligned your teeth are.
What Benefits Does Invisalign Treatment Have Over Braces?
There are a number of advantages Invisalign aligners have over traditional braces. See some of the most popular reasons to choose clear aligners below:
The clear plastic makes them barely noticeable, especially compared to braces.
The trays are removeable, so you can eat whatever you want, when you want it.
The smooth plastic isn't irritating, and it won't get stuck or cut the inside of your cheeks like braces.
Invisalign treatment requires less visits to the dentist's office for adjustments compared to other straightening methods.
How Do I Know If Invisalign is Right for Me?
Invisalign treatment sounds great, right? So how do you know if clear aligners are suitable for you?
What Do You Want to Fix?
Invisalign has a hard time treating cases that are too severe. If you want to correct an issue like a large overbite, a more advanced method may be necessary to shift the jaw. If the case isn't severe, Invisalign treatment can fix crowded teeth, misaligned teeth, overbite, underbite, and crossbite. If your case is more severe, contact your local orthodontist to discuss alternative options.
How Old Are You?
Your teeth have to be fully grown in to receive the best results with Invisalign treatment. Older teenagers and adults are perfect candidates. Invisalign treatment is also more advantageous for teens and adults due to dating, pictures, social lives, and a wider variety of diet.
Are You Dedicated to Fixing Your Smile?
Because Invisalign aligners are removeable and must be worn at least 22 hours a day, they require responsibility and dedication to achieve the best results. The treatment won't be effective if you don't use your aligners as instructed and it will take longer to straighten your smile.
Does Invisalign treatment sound right for you? Talk to your local dentist to get started on a discreet way to straighten and beautify your smile!
Meet the Dentist
Dr. Jay Oza looks forward to treating new patients to improve their health and appearance. He offers Invisalign treatment because he knows that braces can be inconvenient and noticeable. He currently practices at Marvel Dental, where he can be contacted through his website or by phone at (817) 933-3883.