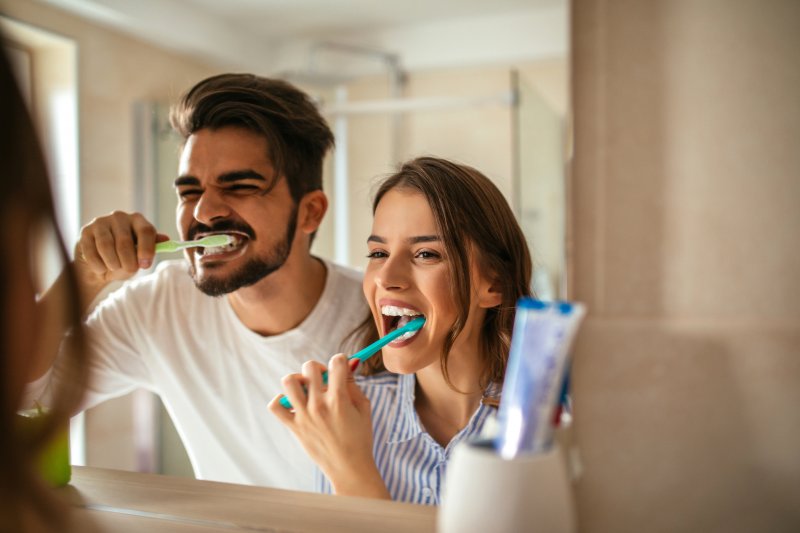 Think back to last year when you set a new year's resolution. Are you any closer to it now that another year has passed? For many people who set resolutions, meeting goals isn't as easy as they thought it would be. But just because you didn't meet your goal this year doesn't mean you should give up. If anything, it means you're better equipped to manage it the next time around.
However, if you're looking for a new resolution to mix things up, your oral health can always be improved. Here are four suggestions for you to consider from a dentist in Burleson.
Include Flossing in Your Routine
Plaque is truly an insidious substance. It finds ways to attack your enamel, even after you've practiced thorough brushing. If you want to ensure that you don't develop tooth decay in the future, you'll need to floss at least once a day. To help you remember, keep your floss in the same place where you keep your toothpaste. This way you'll remember to start your routine with flossing, followed by brushing. Doing this also makes it easier for toothpaste to seep in between your teeth for extra protection and coverage. Furthermore, make sure to keep floss on your desk at work in case food gets caught in between teeth.
Cut Back On Sugary Snacks
If your previous resolution focused on losing weight, protecting your oral health is just another incentive to cut back on sugar. Avoid snacking on foods filled with sugar or high amounts of starch as this only promotes plaque growth. Opt for crunchy vegetables that scrub excess plaque and food debris away from teeth. If you do eat any sugary or starchy food, make sure water is nearby to help you wash away food and plaque.
Kick Your Tobacco Habit
Most people know now that tobacco directly increases your risk for gum disease. To start quitting, find a habit that helps you relax and replaces the time you'd spend smoking. Ask friends and family members to hold you accountable when you start your quit date. Visit your general practitioner and ask for treatment options if you struggle to manage your addiction on your own.
Schedule a Dental Appointment
No oral care routine is complete without a checkup and cleaning from a dentist. Dental appointments every six months are an easy and effective way to protect your oral health throughout the year. They also help you work towards a resolution of maintaining long-term health. In many cases, dentists are capable of catching the early signs of systemic disease, not just dental disease.
With these tips in mind, maintaining better oral health doesn't have to be a difficult endeavor. Schedule your next dental appointment today and get more advice on maintaining long-term oral health!
About the Author
Dr. Jay Oza earned his dental degree from New York University. He regularly continues his education in order to bring the community the best dental care possible. If you need help meeting a new year's resolution or simply need to schedule a routine checkup and cleaning, you can contact him through his website.