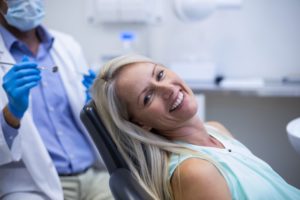 April is Oral Cancer Awareness Month—an effort to raise awareness on the importance of receiving regular screenings from your dentist. While cases of oral cancer continue to increase year after year, it is also one of the most curable diseases. If caught early on, patients have an optimal chance at recovery, making oral cancer screenings vital to your oral and overall health. Keep reading to learn more about oral cancer and what your dentist in Burleson looks for during a screening.
Why are Oral Cancer Screenings Important?
Oral cancer doesn't get a lot of the spotlight because it isn't as common as other cancers. However, this problem has increase year after year for the last 16 years. There are risk factors of oral cancer like routine tobacco use, smoking, heavy consumption of alcohol, family history, and prolonged exposure to the sun, but there are a growing number of cases in people without any of these risk factors. This is one reason why it's important to receive routine screenings from your dentist.
What Does Oral Cancer Look Like?
One of the many reasons why oral cancer screenings with a professional is important is that many symptoms of this cancer are hard to detect on your own. However, you should contact your dentist immediately if you notice any of these common warning signs:
Changes in color of soft tissue
Lumps or bumps in or around your mouth
Sores in or around your mouth that won't heal
White or red patches in your mouth
Difficulty or pain swallowing
Pain in your mouth
Pain in your ears
What Does an Oral Cancer Screening Involve?
Dentists alone catch around 84% of oral cancers early on, making them experts at potentially lifesaving detection. In total, this screening only takes a matter of minutes and it's possible that you've had one before without even knowing it. This noninvasive examination has 2 parts: visual and physical. During the visual exam, your dentist will carefully examine your head, neck, mouth, gums, tongue, cheeks, throat, and any other related areas for abnormalities. After, they will feel around your jaw and lymph nodes for any lumps, bumps, or growths that could tip off cancer.
When is the last time that you and your family received an oral cancer screening? Contact your dentist in Burleson to receive a potentially life-saving, couple-minute exam as part of your routine checkup and cleaning.
Meet the Dentist
A graduate of the NYU College of Dentistry, Dr. Jay Oza is a highly-trained dentist who takes pride in his ability to detect oral health issues early. He never wants to find oral cancer, but he's glad we can provide his patients with their first step towards regaining their health. He currently practices at Marvel Dental, and he can be contacted through their website or by phone at (817) 933-3883 for any questions.