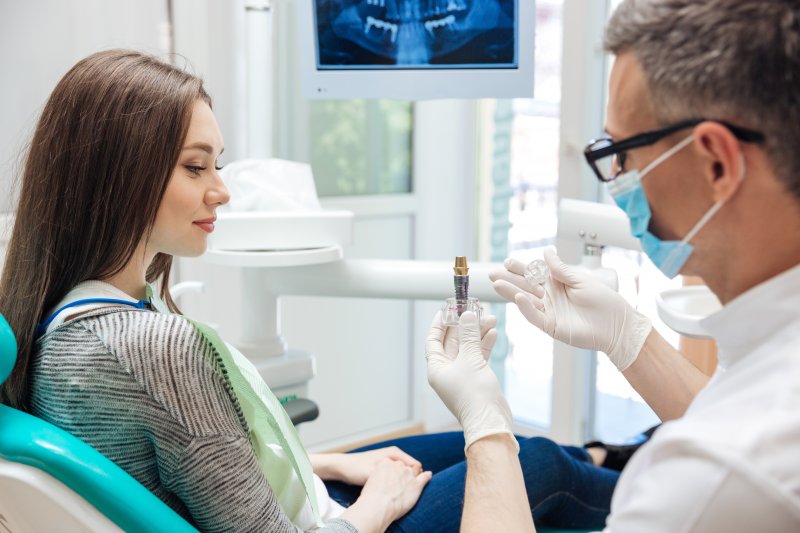 There is an abundance of data that provides evidence that oral health can have a major impact on the rest of the human body. The newly discovered information further supports the old adage that the mouth is the window to the health of the rest of the body. As you continue reading, your dentist in Burleson reveals what the connection is and how preventive dental care can make a huge impact in your total wellness!
The Oral and Overall Health Connection Revealed
The primary threat to your body's overall health is the growth of harmful bacteria. Thus, for people who have poor oral hygiene habits, these microorganisms can have a corrosive field day. The problems start with the development of a clear substance called plaque, which is the result of hundreds of different types of bacteria forming into one menacing structure. The sticky substance can then coat the teeth and lead to decay.
The problems don't stop there as, unchecked, plaque can seep beneath the gum line to lead to gum disease. This condition can be considered as a gateway development of sorts. That's because if it goes untreated, the infected and inflamed blood that permeates the gums can then carry its destructive properties elsewhere in the body.
Problems That Oral Bacteria Can Lead to
The following are some of the issues that can arise from poor oral health:
Hypertension
Stroke
Oral Cancer
Heart Disease
Pancreatic Cancer
Alzheimer's Disease
Complications with Diabetes
These problems shouldn't be taken lightly, as in differing degrees, each can become life-threatening. This shows the importance of taking a more holistic approach to the maintenance of your overall health.
Preventive Measures to Take
The best form of treatment for any condition is prevention. Therefore, it's worth taking the time to fortify your oral health using these simple measures.
Monitor Your Diet
One way to maintain a state of wellness is to view food and beverages as necessities for survival and not vehicles of pleasure. By developing this mindset and monitoring your intake of snack items like sodas, juices, desserts, candy, chips and other unhealthy consumables, you can lessen the chances of bacteria growing inside your mouth.
Practice Excellent Oral Hygiene
The simple practices of brushing and flossing your teeth, always in tandem and at least two times a day, will do wonders for your oral health and provide greater support for your total fitness. For starters, it helps to eradicate a host of the resilient bacteria that attempt to invade your mouth throughout the day.
Visit Your Dentist
It's recommended that you visit your dentist every six months for preventive care, which provides you with cleanings and examinations. Therefore, any lingering plaque and tartar will be removed, and your dentist will be able to spot and address a developing problem before it poses a serious threat to your homeostasis.
To get the process started of fortifying the health of your entire body, contact your local dentist to schedule a visit today!
About the Author
Dr. Jay Oza earned his dental degree from New York University, and throughout his career, he's remained in a constant pursuit of knowledge. Thus, he maintains membership with the Fort Worth District Dental Society and other professional organizations. Dr. Oza provides top-notch preventive care at Marvel Dental, and he can be reached for more information through his website.