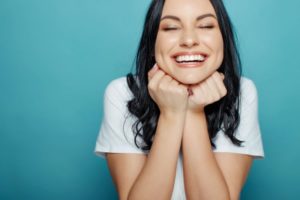 Your tooth enamel is the hardest substance in your body, but it's not indestructible. If your tooth becomes damaged or weakened, you'll want to protect it with a tooth-shaped cap known as a dental crown right away. Traditionally, it takes a few weeks for a dental crown to be designed and created. But if you have a broken or painful tooth, that may feel like a very long time! Thankfully, there's a newer, faster way to fix a broken tooth. Read on as your Burleson dentist explains how you can start enjoying your smile again right away with the help of CEREC same-day dental crowns!
CEREC: The Latest and Greatest Dental Crown Process
CEREC stands for "chairside economical restoration of esthetic ceramics." This revolutionary process shortens the time it takes to design and create a dental crown from a few weeks to just a few hours or less! Unlike the lengthier traditional method, the same-day crown procedure can be broken down into three simple steps:
Your dentist will use a small, state-of-the-art camera to take digital pictures of your mouth, which are fed into the CEREC machine to create a 3D model of your dental crown.
Once the design is created, your dentist will make any necessary adjustments before it's sent to a in-office milling machine and carved out of a single, solid block of ceramic.
In a matter of hours, your new dental crown will be finished and firmly cemented to your tooth.
Comparing CEREC and Traditional Dental Crowns
The traditional way to create a dental crown requires using a messy dental putty to make an impression of your mouth. Then, instead of using an in-office machine, that impression is sent off to a dental lab to be created. This could take several weeks, so you'll need to be fitted with a temporary crown to protect your compromised tooth from bacteria and further damage in the meantime. When the crown is finally finished and sent back to your dentist's office, you'll need to come back for a second appointment to have it installed.
Not only do same-day dental crowns save you time, but they're healthier for your affected tooth as well. Temporary crowns are not as precisely fitted as permanent ones, which could cause them to become loose over the weeks. This could allow bacteria to infiltrate it and cause decay. Or, the temporary crown may fall out entirely, putting your tooth at risk of further damage. Bypassing this step with a same-day dental crown ensures a secure fit and full protection for your tooth as soon as you walk out of your dentist's office.
There's no need to suffer through weeks of a broken or weakened tooth. Ask your Burleson dentist about CEREC same-day dental crowns so you can start enjoying your fully restored smile within a single day!
About the Author
At Marvel Dental in Burleson, TX, your goals, time, and comfort are important to us. That's why Dr. Jay Oza is proud to offer CEREC same-day dental crowns. With the help of the latest dental technology and techniques, he can efficiently and effectively restore your smile as quickly as possible with quality results. If you'd like to learn more about CEREC same-day dental crowns, feel free to contact him via his website or (817) 933-3883.