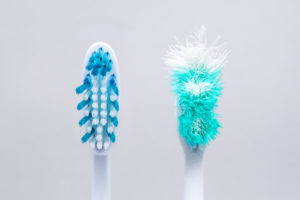 You can probably tell when it's time to replace your ripped jacket or run-down shoes, but do you know when to get a new toothbrush? Even though you use it every day, it can be difficult to tell when it's started to wear out its use. However, if you keep hanging on to your old toothbrush past its prime, you could end up damaging your oral health. Read on to find out how, as well as tips from your Burleson dentist on when and how to replace your toothbrush.
Why Do Toothbrushes Need to Be Replaced?
When was the last time you took a good look at your toothbrush? If the bristles look dirty or askew, it could be:
Allowing plaque buildup: Studies show that frayed bristles on toothbrushes leave behind a considerable amount of plaque, increasing your risk of tooth decay and gum disease.
Damaging your soft tissues: If a bristle detaches and becomes stuck between your gums and teeth, it could cause irritation, sores, or infection.
Giving you bad breath: Using an old toothbrush could reintroduce previously removed plaque, bacteria, and food particles, leaving your mouth dirtier than before you bushed.
When Should I Replace My Toothbrush?
The American Dental Association recommends replacing your toothbrush every three or four months. However, you should replace it sooner if you notice that the bristles have become flattened, which could happen as the result of over-aggressive brushing. Health experts also recommend tossing your toothbrush after you've had a cold or flu to prevent any chance of reinfection.
Tips for Choosing Your Next Toothbrush
You have two main options when replacing your toothbrush, each with their own unique advantages:
Manual: Traditional manual toothbrushes are a convenient and effective option. They don't need to be charged, they don't make any noise, and are easy to travel with. You also have complete control over the pressure and speed of your brushing.
Electric: A modern electric toothbrush uses rotating bristles to make cleaning between your teeth and gums easier. They can also come with a variety of extra features like timers, sensors, and brushing modes. However, it's important to remember that you'll still need to replace the toothbrush head every few months.
Brushing your teeth is an important part of maintaining your oral health, so it's worth doing right! Your clean and healthy smile will thank you for investing in a new toothbrush every three or four months.
About the Author
Our talented staff at Marvel Dental in Burleson, TX is committed to helping you stop dental issues before they start. Dr. Jay Oza loves to teach patients about the best ways to take care of their smiles at home while providing important preventive services like checkups and cleanings. If you need help getting your oral health back on track, he offers an array of treatments like same-day crowns, Invisalign, and periodontal therapy. If you'd like more help choosing your next toothbrush, feel free to contact him via his website or at (817) 933-3883.