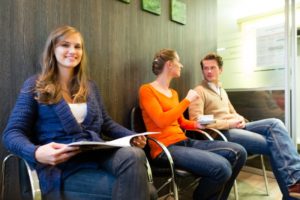 From sugary snacking to stressful chewing, there are a number of reasons why many of us will be visiting our dentist after weeks in quarantine. As the country slowly begins to reopen, it's essential to keep in mind that social distancing is still the best way to protect yourself and your loved ones from COVID-19. How are you supposed to stay six feet apart from others when visiting a busy dental practice? Read on to find out what steps your Burleson dentist is taking to help you keep a safe distance when you come in for dental care.
Virtual Waiting Room
We've all experienced the uncomfortable situation of waiting in an overly crowded waiting room at some point in our lives. Being in close contact (within six feet) of another person for a prolonged period of time is the most common way COVID-19 is transmitted. To minimize your risk before your appointment, your Burleson dentist has implemented a virtual waiting room. This method allows you to check in for your appointment from the safety of your car. When you're called in, you can bypass the reception area completely and go directly to your treatment room.
Sequenced Patient Scheduling
Your Burleson dentist and his team are excited to welcome back all their patients. However, they won't be scheduling as many appointments as before right away. By scheduling fewer appointments every day, they reduce how many other patients you'll be exposed to as you come into and leave the practice. This also allows for more time to clean between visits.
Expanded Patient Appointments
In the past, you may have had some of your dental work stretched out between several different appointments. However, part of social distancing is limiting trips outside your home. To save you time and avoid multiple exposures, your Burleson dentist is offering expanded appointments. These longer appointments allow for more work to get done in a single visit, which prevents the need for numerous shorter sessions. Your dental team loves to see your smiling face, but they're aiming to reduce how often you need to come see them until the threat of the coronavirus has passed.
In these unusual times, dental professionals are working tirelessly to provide the dental care their patients need while respecting social distancing recommendations. Thankfully, there are several ways your dentist can help you avoid the crowds while offering the treatment you need.
About the Practice
At Marvel Dental in Burleson, TX, we know that the COVID-19 pandemic has changed many aspects of everyday life, but it hasn't changed our commitment to your oral health. We have adopted 21 additional steps for our infection control and safety protocols to ensure you're receiving the quality treatment you deserve in an impeccably clean and germ-free environment. This includes social distancing measures, staff and patient health screenings, and a variety of frequent disinfecting procedures. If you have any questions or concerns, please reach out to us via our website or at (817) 933-3883.