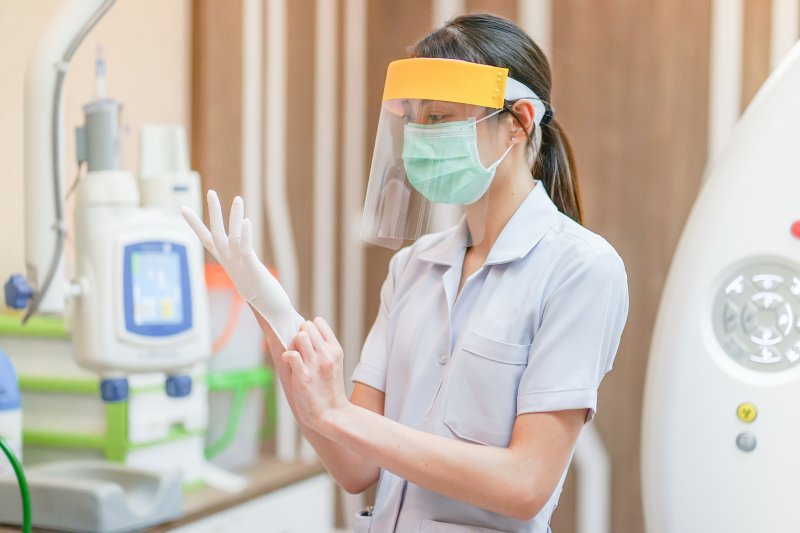 At your dentist's office, a culture built on safety and infection control is more important now than ever. While historically the number of healthcare-acquired infections (HAIs) from dental procedures is nominal, dentists across the board are still taking extensive measures to ensure that your safety remains a top priority throughout the novel COVID-19 pandemic. Your dentist in Burleson shares five ways they're preparing for your upcoming appointment.
Designated Safety Champion
In addition to specialized training for the entire staff, each day one team member will be assigned as the safety champion. In this role, they will be responsible for answering questions from patients, ensuring social distancing guidelines are followed, and overseeing that the team is following all infection control guidelines.
Health Checks for Patients and Staff
To prevent the COVID-19 virus from spreading, health checks will be implemented for anyone coming into the office. Here are a few ways this will be executed at your next visit:
Daily temperature checks for dentists, hygienists, assistants, and office staff.
Pre-screening questionnaires before all appointments.
Reminders to stay at home and reschedule if you are experiencing symptoms.
No-touch temperature checks for patients.
Emphasis on Thorough Sanitation
From the beginning, The Centers for Disease Control and Prevention have reinforced the importance of frequent handwashing. To ensure that germs are not being passed from person to person, dentists are placing a heavy emphasis on hygiene by:
Placing hospital-grade hand sanitizing stations throughout the office.
Conducting in-depth cleaning after every appointment.
Disinfecting the office extensively each evening.
Offering anti-microbial rinse before your appointment.
Additional Personal Protective Equipment
Each day, dentists and their teams are exposed to blood and saliva that can carry harmful viruses and bacteria. Before COVID-19, masks, gloves, and lab coats were commonplace personal protective equipment. However, to ensure their safety in a high-risk environment, dentists are using additional PPE like:
Goggles to cover their eyes.
Face shields to protect their eyes, nose, and mouth.
Disposable garments that show little to no skin.
New Waiting Room Protocol
Let's face it: pre-pandemic waiting rooms were by no stretch of the imagination social distancing friendly. To ensure the safety of patients and their families, waiting rooms have been redesigned with a few of the following changes:
Virtual waiting cues.
A 6-foot distance between each seat.
No communal activities (i.e., magazines, toy chests, etc.).
Face masks unless the patient is less than five years old.
These exhaustive measures have become a top priority for dentists who are focused on infection control and the safety of their patients. With these measures in place, you can maintain your beautiful smile without having to worry about exposing yourself to COVID-19.
About Marvel Dental
With next-level patient care and state-of-the-art dental techniques, the staff at Marvel Dental is dedicated to building relationships built on trust and respect. Backed by their incredible team, Dr. Oza and Dr. Chudasama focus on providing the highest quality of care in their beautiful facility. If you have any questions about infection control at your next appointment, visit their website or give them a call at 817-933-3883.