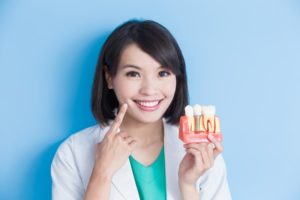 Losing a permanent tooth and trying to choose between all your replacement options can be an overwhelming experience. However, one method sets itself above the rest: dental implants. With over 500,000 dental implants placed every year, this modern tooth replacement option is quickly becoming one of the most popular solutions to missing teeth. So why have over three million people chosen to rebuild their smiles with dental implants? Read on as your Burleson dentist explains some of the distinct advantages this common treatment can offer that other tooth replacements can't.
1.) Exceptionally Lifelike
Dental implants are crafted from dental porcelain, a durable material that is well-known for how closely it resembles the texture and appearance of healthy tooth enamel. Each dental implant is custom-made to match the size, shape, and color of the nearby teeth to blend in seamlessly and naturally with the rest of your smile.
2.) Unmatched Comfort
Your dental implant will be fused directly into your jawbone, essentially becoming a part of you. As such, it will never feel uncomfortably loose while you talk or eat. Additionally, it won't put any extra pressure on your jawbone or cause gum irritation.
3.) Improved Biting Force
Thanks to your dental implant's secure foundation in your jawbone, you can continue to eat all your favorite foods confidently! You'll be able to enjoy up to 80% restored biting force, allowing you to comfortably chew steak, corn on the cob, apples, taffy, and anything else on your plate!
4.) Designed to Last a Lifetime
Unlike other tooth replacement options that have lifespans of five to 15 years, your dental implant is designed to last for decades. With the proper care, it shouldn't need to be repaired or replaced for the rest of your life.
5.) No Special Care Needed
Caring for your new dental implant won't require any special techniques or products. Simply brush and floss it daily with the rest of your teeth to keep it clean and healthy. A simple yet effective dental routine is all that's needed to keep your dental implant beautiful and functional for a lifetime.
6.) Able to Prevent Bone Loss
The roots of your teeth promote circulation in your jawbone, so as soon as one goes missing, your jaw begins to deteriorate and your facial features appear sunken and aged. Your dental implant can prevent this with the small titanium post that anchors it in the jawbone, which stimulates blood flow and stops the bone loss.
7.) Promotes a Healthier Smile
Dental implants are the best tooth replacement option for your oral and overall health. Since they don't cause gum sores or require altering healthy teeth, your mouth is less likely to develop infections or tooth decay. Additionally, dental implants are easy to keep clean, which lowers your risk of oral health issues as well as systemic conditions that are connected to them, like respiratory infections and heart disease.
With all the unique benefits of dental implants, it's easy to see why they're becoming so popular. Talk to your Burleson dentist to find out if this modern tooth replacement option is right for you!
About the Author
Whether you're missing one, several, or all of your teeth, Dr. Jay Oza of Marvel Dental can restore your complete and confident smile. As an active member of the American Dental Association and the Fort Worth District Dental Society, he is committed to constantly updating his knowledge. He completes countless hours of continuing education to stay current with all the latest dental techniques and technologies. He is proud to offer dental implants for any number of missing teeth, so feel free to contact him via his website or at (817) 933-3883 to learn more.