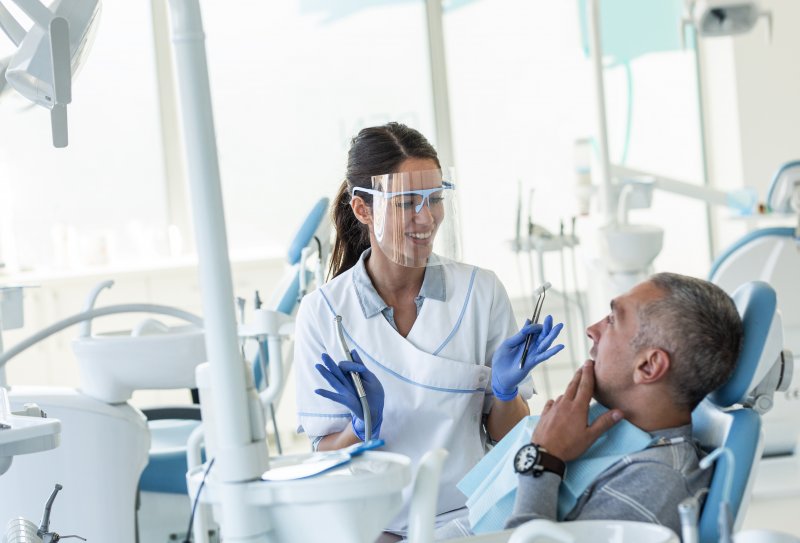 For over five months, our lives have completely changed in the name of infection control. Initially, stay-at-home orders were in place, businesses were shut down, and events were canceled. However, thanks to face coverings, social distancing guidelines, and extensive hand hygiene, the transition into our "new normal" has begun. Nevertheless, many patients are continuing to postpone their routine dental visits to practice self-isolation and prevent potential exposure. Therefore, a dentist in Burleson is sharing four reasons why COVID-19 shouldn't delay your bi-yearly appointments.
#1. Your Dentist Is an Expert in Infection Control
Long before 2020, your dentist followed the substantial safety and sanitation measures put forth by the Centers for Disease Control and Prevention and the Occupational Health and Safety Administration. While those measures continue to play a crucial role in preventing cross-contamination, dental teams are implementing additional practices at appointments during COVID-19. Therefore, don't be surprised to see the below protocols being enforced at your next visit:
Social distancing guidelines (i.e., contactless greetings, virtual waiting rooms, etc.).
Daily health checks for the staff (i.e., no-contact temperature checks, screening questions, etc.).
Extensive sanitation practices (i.e., hospital-grade hand sanitizing stations, deep cleaning after each appointment, etc.).
Additional personal protective equipment (i.e., face shields, disposable coats, etc.).
#2. Preventive Care Protects You from Dental Emergencies
Did you know over 5 million teeth are avulsed each year? While a knocked-out, chipped, or otherwise damaged tooth can happen at a moment's notice, preventive care can help protect your teeth and gums from unpleasant and inconvenient dental damage. At your bi-yearly visits, your dental team can treat dental issues when they are small, remove stubborn plaque and tartar, and ensure your oral health is in tip-top shape.
#3. Routine Appointments Catch Non-Dental Issues
Unfortunately, many patients view their dental checkups as just a quick sweep for cavities. However, during the examination portion of your visit, your dentist checks for non-dental issues as well. After all, 90% of health conditions have oral symptoms! So, your dental team can play an instrumental role in the early detection of osteoporosis, diabetes, and HIV (to name a few!).
#4. Your Oral Health Impacts Your Overall Health
From routine exercise to clean eating, people go to great lengths to keep their immune system strong. However, did you know that prioritizing your oral health is also an important step? If an infection is neglected in your mouth, your body's natural response is to send infection-fighting blood cells to the area. Over time, this can weaken your immune system and leave you vulnerable to colds and viruses. Plus, the harmful bacteria in your mouth can enter your bloodstream and travel to your heart and lungs, which can lead to cardiovascular and lung disease. Therefore, always make sure to prioritize your oral health and routine dental appointments!
Navigating through life in a pandemic can be anxiety-inducing. Fortunately, your dentist is taking extensive measures to ensure your check-up during COVID-19 is safe. That way, you can get the oral care you need without compromising your safety!
About the Practice
At Marvel Dental, an integrity-based approach to care, high-quality service, and state-of-the-art technology come together to create the dental experience they are known for. With their friendly staff at their side, Dr. Jay Oza, Dr. Dipak Chudasama, and Dr. William Starck focus on building genuine relationships and delivering world-class service to provide their patients with healthy, beautiful smiles. If you would like to schedule your bi-yearly visit or get additional information on how they are keeping their patients safe during COVID-19, visit their website or give them a call at 817-933-3883.