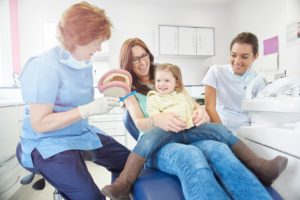 You've just found out your child needs their teeth straightened, so you have to schedule an appointment for them with a new orthodontist instead of their pediatric dentist. Your mother just told you she needs a new pair of dentures since hers don't fit well anymore. In the chaos of trying to book all of these visits, you almost forgot about your own dental checkup! Isn't it stressful having to visit all of these different professionals just to meet your family's various dental needs? One way to make this process easier is by choosing a family dentist in Burleson instead. Here are five benefits you can gain from seeing a family dentist.
1. Your Dental Care Is Simplified
A family dentist can treat patients of all ages, from your grandmother to your newborn baby. There's no need to drive all the way across town to see different providers. In fact, many family dentists make it easier on you by offering to schedule checkups for the whole family on the same day.
2. They Provide a Wide Range of Services
Because family dentists treat a variety of patients, they offer a wide range of services. Whether your son or daughter needs orthodontic treatment, or your parent needs to replace their missing teeth, a family dentist should be able to provide most, if not all, of the services your family will need under one roof.
3. Strong Relationships Are Developed
The longer you see a family dentist, the more comfortable your family members will grow discussing their oral health needs with them. Plus, your child will be less likely to feel anxious in the dental chair.
4. Your Child Will Follow Your Example
If your son or daughter sees a different dentist than you do, they won't be able to watch you getting your teeth cleaned. At a family dental office, they can observe your checkup and see that it's nothing to be afraid of. This is beneficial because kids who are less fearful of the dentist are more likely to seek out dental care on their own as an adult.
5. It's Easier to Keep Track of Your Dental History
Having your little one jump from a pediatric dentist to a general dentist could cause problems. Seeing a family dentist allows your child's files to stay in one place, and lets them continue seeing the team of professionals they grew up with and trust, easing their transition into adulthood.
If you're not currently seeing a family dentist, it's time to make that switch. It will help keep all of your loved ones' smiles healthy!
About the Practice
At Marvel Dental, you're more than just a name on a chart. We take the time to get to know every patient as a person so we can develop a personal, trusting relationship. Drs. Oza, Starck, and Chudasama are more than happy to provide comprehensive dental care to patients of all ages. If you're looking for a family dentist in Burleson, TX, you can contact Marvel Dental at 817-933-3883.