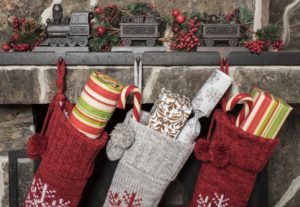 Are you ready for Christmas? As a parent, one of the best parts of the holidays is watching your son or daughter discover their stocking and the little goodies hidden inside. However, a stocking full of popular sugary treats can leave your child with a mouth full of cavities! Instead, you can give them gifts that will put a smile on their face and help keep it healthy. Here are a few stocking stuffer ideas from your Burleson dentist that can promote better dental habits.
A Brand-New Toothbrush
Do you know how old your child's toothbrush is? The American Dental Association recommends switching to a new toothbrush after about three to four months. If that's something you've let slide this year, now is a great time to get back into it and sneak some brand-new toothbrushes into your family's stockings. For younger children, consider choosing a brightly colored toothbrush that features their favorite cartoon character. Make sure it's an age-appropriately sized toothbrush with soft bristles.
Older children (and adults) would likely be more excited to find a new electric toothbrush in their stocking this year. Many electric toothbrushes come with built-in timers, sensors, and modes that encourage thorough and effective brushing. These high-tech tools can help transform toothbrushing from a boring chore to a more interactive experience.
Fun-Flavored Dental Products
Another way to get your son or daughter excited about taking care of their precious smile this holiday season is to shake up their mundane, mint-flavored dental routine. Nowadays, dental products come in a wide range of fun flavors that can make oral hygiene much more fun for your child. From orange, watermelon, strawberry, cinnamon, bubble gum, and even cupcake, you're sure to find a flavor your child will be excited to try!
Travel-sized or full-sized floss, toothpaste, and mouthwash are great options for stocking stuffers. However, it's important that you're gifting a product that works just as well as it tastes! The stocking-stuffers you choose should all have the ADA Seal of Approval to ensure they're both safe and effective. Always pick toothpastes that have fluoride, and skip the mouthwash for children under the age of six.
Smile-Friendly Snacks
If keeping your little one from eating any sugary treats during the holidays sounds like a nearly impossible task, you're certainly not alone! Instead of avoiding sugar entirely, try to choose smile-friendly snacks to indulge in. Dark chocolate contains less sugar than milk chocolate and white chocolate, and it also has beneficial antioxidants. Soft peppermint patties and peanut butter cups are a safer choice than sticky lollipops or hard candies that could potentially weaken or chip your little one's teeth. Sugarless gum, cheese sticks, and small fruits are also healthy choices that can fit in your child's stocking. Whatever treats end up in your family's stockings, just make sure that they brush their teeth thoroughly at the end of the day!
Maintaining great oral hygiene can be difficult for children, especially during the holidays. Gifting them some smile-friendly stocking stuffers is a great way to encourage them to keep their little smiles healthy and happy!
About the Practice
At Marvel Dental, we aim to help smiles of all ages in Burleson and the surrounding communities prevent oral health issues before they get a chance to develop. With complimentary refreshments, the latest dental technology, and a team who truly cares, we strive to make every appointment as pleasant as possible. Two thorough dental checkups and cleanings each year give us a chance to ensure your family's smiles are healthy all throughout the holiday season. To learn more, we can be contacted via our website or at (817) 933-3883.