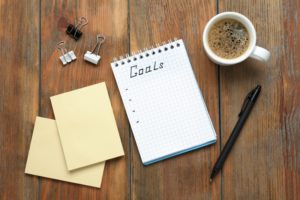 It's a brand new year, and you have the opportunity to make it the best one yet. You've probably already heard the phrase, "new year, new you" a time or two, but have you considered what that means for yourself on a personal level? You may have already finished your list of new year's resolutions, but before you tuck it away, your Burleson dentist shares some reasons why adding a healthier smile to the list is one of the best things you can prioritize this year.
Tips for Prioritizing Your Smile
It's never too late to start making oral health a priority. Here are a few ways you can be kind to your smile this year:
Stay on Top of the Oral Hygiene Game
Most people remember to brush their teeth at least once per day, but 28% either only floss if they feel something lodged in their teeth or not at all. The reason that flossing your teeth is just as important as brushing them is because floss has the ability to remove plaque or leftover food particles that your toothbrush can't reach. This prevents plaque from turning to tartar and causing tooth decay or gum infection.
Eat More Veggies
Your caretakers may have "nagged" at you to be sure you finished your vegetables at meal time when you were a child, and there's a good reason for it! Vegetables are full of vitamins and minerals that help keep your teeth and gums strong and healthy. Plus, the high fiber content in some can actually help clean your teeth while you're eating them.
Cut Back on the Sugar
Besides being better for your waistline, eating less sugar can mean a healthier smile for you by preventing cavities. While candy and other sweet treats are obvious culprits, it's important to note that many alcoholic beverages also contain high amounts of sugar, so it's a good idea to make sure you're drinking plenty of water to rinse out your mouth.
See Your Dentist Regularly
Your dentist checks for a multitude of potential issues each time you visit them, one being oral cancer. The sooner an oral problem is revealed, the more treatable it is. This not only saves you from having to make multiple trips back for treatment, but it also puts a lot less strain on your wallet.
Your smile speaks volumes about you, and it's one of the first things people notice the first time they meet you. Show it a little more love this year by making oral health a priority.
About the Author
The team of doctors at Marvel Dental is passionate about educating their patients on how to practice the best oral health. They believe that receiving preventive dental care is one of the most important things a person can do for themselves. Their practice is built on trust and long-lasting relationships, and their combined skills and years of training make them the best choice for dental care in Burleson. Are you ready to prioritize your smile? Request an appointment online or call (817) 933-3883.