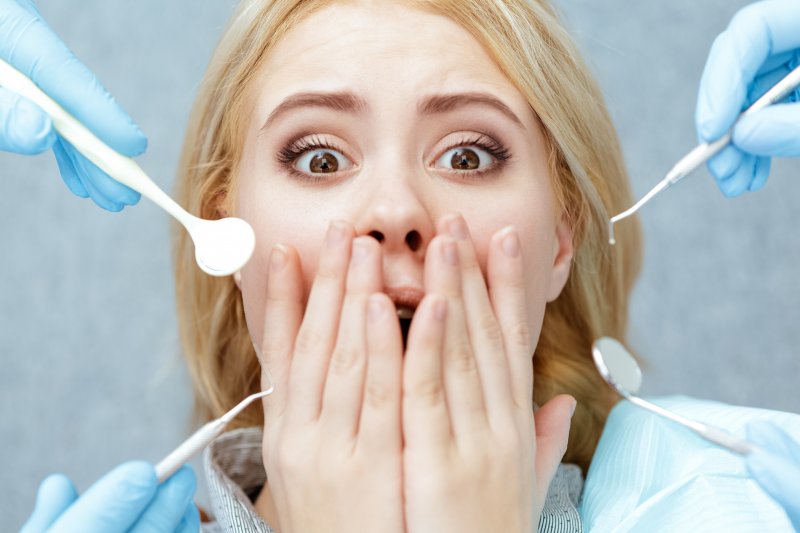 Do you suffer from dental anxiety? You aren't alone. Over 30 million Americans experience stress related to their dental visits. Fortunately, this doesn't mean that you need to avoid dental care for all of eternity. Keeping up excellent oral health is an essential step when it comes to keeping your entire body in healthy shape. A dentist in Burleson shares some helpful methods that many anxious patients use in order to combat their dental anxiety during their visits.
Listen to Music
For some people, it is the sound of the dental tools and instruments that make then feel particularly nervous. If this is the case for you, ask your dentist if you can put in your headphones and listen to music. By putting a relaxing playlist on, you will be able to drown out the sound and hopefully relax a little bit more.
Focus on Your Breathing
What many people don't notice is the fact that they hold their breath when they are nervous. It may be beneficial for you to practice some breathing exercises to help calm yourself down. Slow, regular breathing is an effective way of reducing stress.
Ask for a Step-by-Step Rundown
If you aren't sure what your dentist is doing, this can cause you to experience additional stress. When you arrive for your appointment, ask if your dentist can let you know how they plan on treating you and in what order. When you know exactly what you can expect during your appointment, it may take some of the stress out of your experience.
Pick a Good Time of Day
You have a busy schedule. When you schedule your appointment, choose a day and time that fits best into your planner. If you visit the dentist during a time of day where you are already feeling overwhelmed, this could trigger additional anxiety. Instead, choose a time and day where you can reserve more time and not feel rushed.
Talk to Your Dental Team
If your dental team doesn't know that you get anxious during your appointment, they won't be able to do anything to help you out. Let them know if there is anything they can do to make you feel more comfortable throughout the duration of your visit. Address any concerns that you have as well. They will do everything they can in order to treat you in a way that makes you feel stress-free.
Going to the dentist may not be your favorite activity, but it doesn't need to be a stressful experience. Try some of the tips listed above. You may find one that works!
About the Author
Dr. Jay Oza earned his dental doctorate from NYU and continues to attend numerous courses in order to keep his knowledge and skills sharp. Currently, he is a proud member of the American Dental Association, Texas Dental Association, and Fort Worth District Dental Society. For more information or to schedule an appointment, visit his website or call (817) 933-3883.