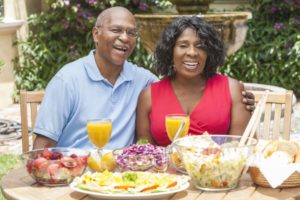 With the hot Texas summer in full swing, you're undoubtedly looking forward to several backyard cookouts with your friends and family members over the next couple of months. If you have dentures, however, you might not be ecstatic about being served corn on the cob, steak, or other summer foods that can prove problematic. That's why most dentists recommend dental implants as the premier tooth replacement. Keep reading to find out how dental implants in Burleson can help you enjoy your favorite summer foods as easily as if you'd never even lost any teeth at all!
How Dental Implants Let You Eat Summer Foods
Dental implants are in a class of their own when it comes to bringing back lost teeth. Instead of resting on the gums like dentures do, implants are surgically inserted into the jaw. They fuse with the surrounding tissue and bone, creating a foundation that is just as sturdy as the roots of your natural teeth. As a result, your chewing and biting powers are restored to almost the same level as they were before your tooth loss. Not to mention, you can trust that your teeth won't slip around or fall out of your mouth!
With dental implants, you can look forward to enjoying summer staples like juicy steaks, delicious corn on the cob, and crouton-filled salads all summer long. In fact, you can enjoy these foods for years to come – if you take good care of your dental implants, they could potentially last for the rest of your life!
Tips for Keeping Your New Smile Bright and Healthy
As innovative and durable as dental implants are, they are not indestructible. Just like with real pearly whites, biting down on something too forcefully can chip or crack your replacement teeth. Therefore, you should be extra careful with sticky or hard foods, like peanut brittle or caramel apples. Chewing on hard, inedible objects like ice (as much as it helps you cool down) can also damage your implants.
Additionally, try to avoid foods and beverages that are particularly high in sugar. Dental implants can't get cavities, but your remaining natural teeth can. Too much sugar can also contribute to gum disease, the leading cause of dental implant failure. Keeping your sugar consumption to a minimum, as well as maintaining a good oral hygiene routine, can go a long way in helping your new teeth last.
Complete Your Smile Today!
Summer is the perfect time for enjoying the warmer weather, catching up with loved ones, and eating all of the delicious staples of the season. Don't let unreliable dentures ruin the fun! Schedule a consultation with your dentist to find out if dental implants in Burleson, TX are right for you.
About the Authors
Dr. Jay Oza, Dr. Dipak Chudasama, and Dr. William Starck strive to make Marvel Dental the ideal place for Burleson families to get all of their oral healthcare needs met. By combining modern dental technology with old-fashioned customer service, the Marvel Dental team provides a truly unforgettable dental experience. They work closely with a network of local dental implant specialists to ensure their patients receive high-quality care. To learn more about your tooth replacement options, contact Marvel Dental at (817) 933-3883.