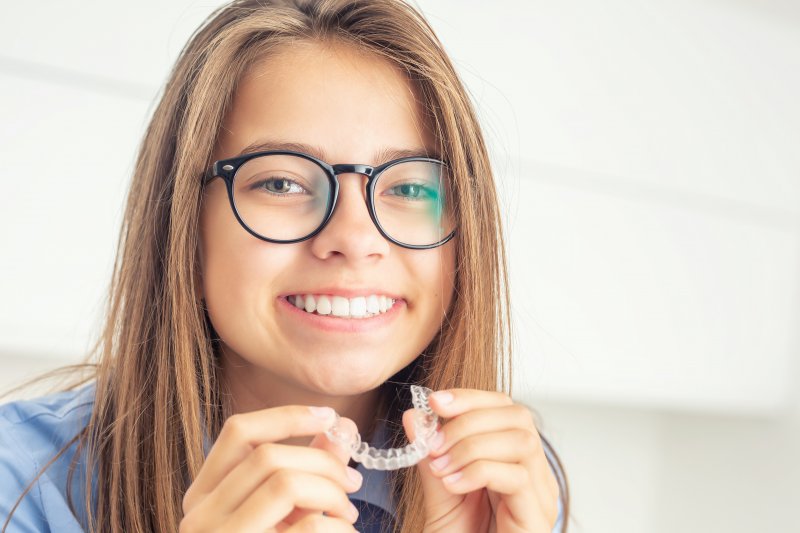 Although it may be hard to believe, back-to-school season is here! Between organizing carpools and purchasing school supplies, there are lots of to-dos that come with this busy time of year. However, the last thing you want is for the hustle and bustle of the new semester to throw your child's orthodontic treatment off track. With this in mind, here are a few back-to-school tips for teens with Invisalign!
#1. Pack Their Lunch with Soft Foods
Orthodontic treatment of any kind comes with some soreness. After all, your teens teeth are being guided into an entirely new position! Don't exacerbate their discomfort by packing their lunch with crunchy apples, hard bread, and other foods that require extensive chewing. Instead, opt for hard-boiled eggs, oatmeal, cooked veggies, soft fruits, applesauce, and other snacks that are both nutritious and delicious.
#2. Buy a Brightly Colored Storage Case
One of the biggest reasons teens fall off track with their treatment timeline is misplaced aligners. To help prevent this from happening, encourage them to place their trays in a brightly colored storage case when they are eating. This will protect their aligners in case they accidentally go tumbling to the floor or are tossed in the trash.
#3. Help Them Relieve Their Discomfort
As mentioned above, it's normal for your teen to experience some discomfort with Invisalign, especially when transitioning to a new set of trays. The good news is there are a few tips and tricks you can use to help. To start, give them their new aligners at night so they can sleep through the most uncomfortable part. Next, encourage them to drink cool water throughout the day (this will help numb the area). Lastly, if all else fails, they can take over-the-counter pain medication as directed.
#4. Encourage Good Oral Hygiene
Implementing a solid oral hygiene routine is essential. After all, all it takes is one cavity to set back your teen's treatment timeline with Invisalign. Therefore, make sure to enforce good dental care habits, like brushing after each meal, flossing daily, and visiting their dentist every six months for a checkup and cleaning. Your teen should also be cleaning their aligners regularly to prevent plaque, food particles, and other debris from clinging to their teeth.
Invisalign can discreetly straighten your teen's teeth in record time. To do so, however, they need to follow all of their dentist's instructions! Fortunately, you can help them stay on track during the school year with the above tips.
About the Practice
Marvel Dental stands out from the rest because of our high-tech practice and next-level patient care. Each of our skilled, experienced, caring dentists is interested in building genuine relationships and creating personalized treatment plans. That way, they can deliver happy, healthy smiles time and time again! If your teen is interested in Invisalign or they have fallen off-track with their treatment plan, don't hesitate to get in touch with our team via our website or by phone at 817-933-3883.