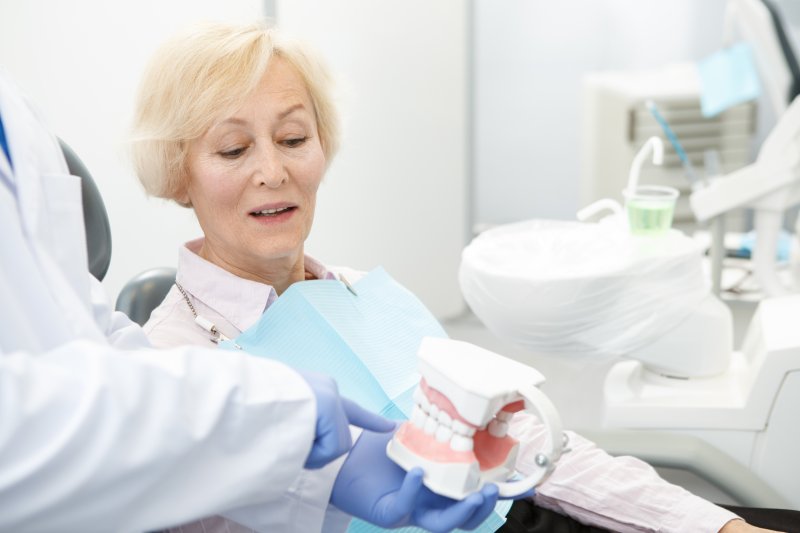 If you have missing teeth, you know firsthand just how much it can affect your quality of life. Luckily, there are several ways you can restore your smile and enjoy a full bite once again. Dental implants are an excellent solution to consider because they're one of the most permanent methods of tooth replacement. However, because they require surgery, you must be well-informed before moving forward with treatment. That said, here are a few questions you should ask at your dental implant consultation.
Am I a Good Candidate for Dental Implants?
Even though there are many solutions for missing teeth, dental implants are the most permanent and lifelike. Not only do they feel and act like real teeth, but they're much more convenient. Unfortunately, implants are not a viable option for everyone. Before your dentist can start the process, you must have a healthy jaw and gums – something not all patients have. To determine whether you're a good candidate for the procedure, they'll evaluate your oral cavity, check your bone density, and ask about your at-home dental care and lifestyle habits.
How Much Experience Do You Have with Dental Implants?
Choosing an implant dentist for your treatment requires as much thought and research as buying a new car or home. If you want your procedure to be as smooth sailing as possible, you'll want to make sure you're working with a seasoned dentist. During your consultation, don't be afraid to ask your dental team questions about their experience! It's the only way to ensure you're receiving quality care. They should be more than happy to share details about their experience, qualifications, and training.
What Does the Dental Implant Process Look Like?
It's worth noting that every dental office has a different process for dental implants. Some can complete the entire procedure in-house, while others refer you to an oral surgeon and only attach the crown. Therefore, it's crucial to figure out whether you'll be working with multiple providers or seeing the same dentist from start to finish. Be cautious of anyone offering same-day implants or bargain prices. Although they may seem like a great deal, they often lead to repeat or more costly procedures down the line.
How Long Will the Entire Process Take?
You should also ask how long you can expect your dental implant process to be. It varies from patient to patient based on many factors. For example, if you require any procedures beforehand, your timeline may be longer than average to complete. Also, the more teeth that need replacing, the more visits you'll need to make. Keep in mind that you will need to wait a few months after dental implant placement for the titanium post and jawbone to fuse together.
What Is the Recovery Like?
Don't forget to ask your dentist how you can prepare for recovery! At your consultation, they'll likely provide you with aftercare instructions and tips to make the healing process a breeze. Because there is a delay between dental implant placement and the final attachment, you'll wear a temporary denture to wear in the meantime.
Are you ready to start your journey towards a new, fully restored smile? By asking your dentist these questions at your dental implant consultation, you can confidently move forward with your decision to start treatment!
About the Practice
At Marvel Dental, we offer comprehensive, individually tailored, state-of-the-art dental services that are guaranteed to exceed even your highest expectations. Our highly skilled and knowledgeable team will always go the extra mile to ensure you receive quality treatment. If you have missing teeth, we can restore your smile and confidence with dental implants. To schedule a consultation, visit our website or call (817) 933-3883.