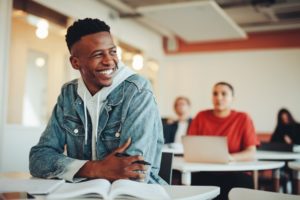 Summer is finally winding down and it is now officially back to school season! And as you're gearing up for a brand-new semester, you've probably got a million different things on your mind including what school supplies you need to purchase, what clothes you're planning to wear, and of course, what classes you're taking! But something else to keep in mind is your oral health; with so much going on, it's easy to let things slide and unintentionally neglect your smile. Here are some tips from your dentist in Burleson to help you get your oral health back on track before your next dental exam.
1. Eat a Healthy Diet
Being in class throughout the day can sometimes make it challenging to stick to a healthy diet, and convenient, unhealthy snacks might seem appealing. But it's no secret that excess amounts of sugar can wreak havoc on your teeth! Snacks like crackers, cookies, and granola bars might be easy to stash in your backpack, but these items can increase your risk of tooth decay, cavities, and even gum disease. Instead, you should opt for healthier, tooth-friendly snacks like fruits, vegetables, cheeses, nuts, yogurt, and more—they benefit your body's overall wellness, too!
2. Drink Plenty of Water
Water is the absolute best beverage for your whole body, and it has many awesome benefits for your mouth and teeth. A hydrated mouth produces plenty of saliva, which is important for washing away excess bacteria that lingers inside your mouth and causes cavities.
3. Establish & Maintain a Routine
Establishing a daily oral hygiene routine is one of the best things you can do for yourself! Not only does brushing and flossing daily actively mitigate serious oral health concerns but having a set routine is a great way to combat anxiety, reduce stress, and encourage healthy habits. You can use technology to assist you with this, such as setting reminders on your phone so that you remember to brush every morning and evening.
4. Schedule a Dental Visit
Another pillar of maintaining good oral health is regularly visiting your dentist for checkups and cleanings; it also gives your dentist the opportunity to detect any issues that require treatment. You should be visiting your dentist biannually anyway, so scheduling an appointment in advance of the school year is a wise move—although it's worth noting that many dental offices are swamped this time of year!
5. Consider Dental Sealants
One proactive approach you can take towards preventing cavities and other oral health problems is by opting for dental sealants. These are affordable and effective solutions that can prevent up to 80% of cavities within the first two years of being applied! That said, dental sealants are a great way to add an extra layer of protection to your pearly whites in advance of a busy semester.
As you're preparing and studying up for a new school year, don't forget to prepare for your upcoming dental exam! Following these steps will ensure that your teeth are given a passing grade.
About the Author
Dr. Jay Oza has proudly served patients and families in the Burleson, TX area for several years. Dr. Oza received his dental doctorate from NYU and is a member of many professional organizations including the American Dental Association, the Texas Dental Association, and the Fort Worth District Dental Society. His practice is pleased to offer a wide range of available services including preventive, cosmetic, and restorative options. If you have any questions for Dr. Oza or would like to schedule a visit, feel free to contact his practice online or by phone: (817) 933-3883.