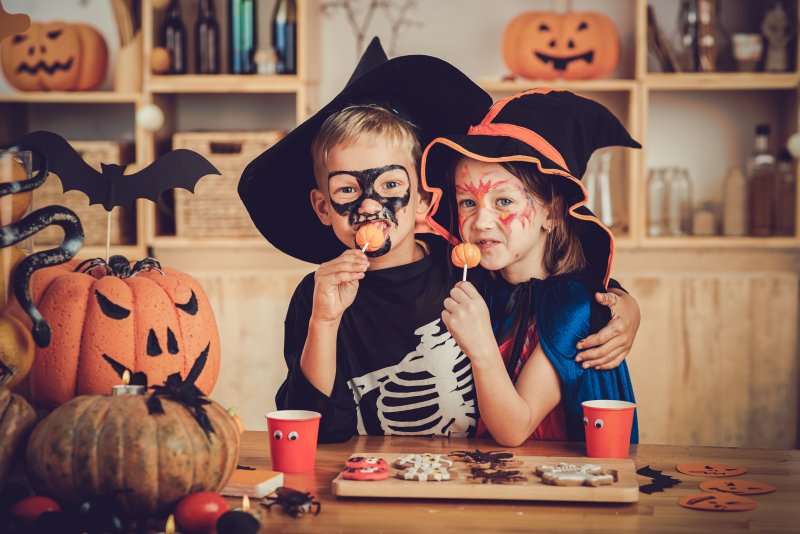 All Hollow's Eve is just around the corner! With the spooky season here, your little one is likely excited to pick out their costume, help with Halloween decorations, and enjoy their favorite candy. While many of these treats are fun and tasty, their high sugar content can be detrimental to your child's oral health. To avoid making their pearly whites vulnerable to cavities, here are four tips from your dentist in Burleson on how to protect your little one's smile during Halloween!
#1: Only Let Them Eat Candy After a Healthy Meal
Although you'll want to preserve your child's smile from bacteria and decay, you won't want them to miss out on the fun of Halloween candies. However, you might consider allowing them to enjoy their treats after eating a well-balanced meal consisting of nutrient- and vitamin-rich foods. This will not only keep them fuller, but it'll also help heighten their saliva production, which will naturally wash away sugary food particles that can harm their teeth.
#2: Be Careful About the Candy They Munch On
Your little one will most definitely come back home with a variety of tasty Halloween snacks, from gooey caramel-filled candies to rich milk chocolate bars. While they shouldn't overindulge in sugary treats, some goodies may be better for their teeth than others. For instance, milk chocolate can easily be rinsed from their mouth whereas sticky or gummy candies can stay lodged in their smile, increasing their risk of cavities. Make sure they avoid sticky or hard treats, such as taffy and lollipops.
#3: Encourage Proper Oral Hygiene Habits
Even if your child is between the ages of 4 and 14, you'll need to encourage them to maintain solid oral hygiene every day. This is especially necessary if you want them to avoid cavities altogether. Be sure to get them to practice a good cleaning routine, which will involve brushing twice a day, flossing daily, and rinsing with mouthwash often. They should also refrain from poor oral habits like using their teeth as tools or chewing on their fingernails.
#4: Schedule Their Next Dental Checkup & Cleaning
Do you have your little one's second dental checkup marked on your calendar? If not, now would be a good time to schedule their visit. Not only will their dentist thoroughly polish their teeth, but they'll also address any developing issues before they can worsen. By visiting regularly, you allow them to effectively prevent oral health problems from starting, such as cavities.
The last thing you'd want is for your child to be in a dentist's chair during Halloween. Keep these few tips in mind, and you can ensure their smile is safe from cavities this spooky season!
About the Author
Dr. Jay Oza received his dental degree from New York University. He's also a proud member of several organizations like the American Dental Association and the Fort Worth District Dental Society. He provides a vast array of high-quality services, including dental checkups/cleanings, periodontal therapy, and children's dentistry. If you'd like to schedule an appointment for your child, visit his website or call him at 817-933-3883.